Balancing faith with football: Merouane Zemmama
Last updated on .From the section Football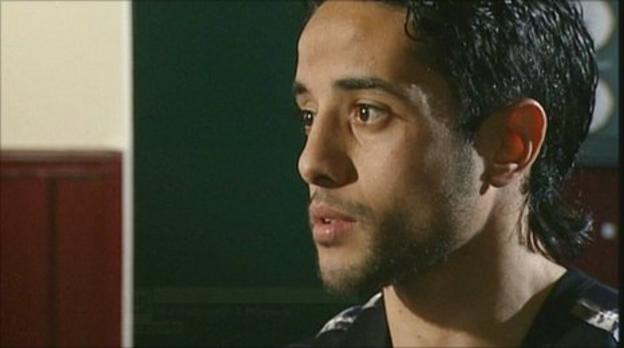 It could be said that the rigours of following a faith, and a football career do not necessarily go hand in hand.
However for Middlesbrough winger Merouane Zemmama, it is a balancing act he carries out on a daily basis.
The 27-year-old handles all aspects of his Muslim faith such as prayer, diet and discipline, with those imposed by the sport which include training, nutrition and a sometimes awkward schedule.
"My religion has a place, and football has another place," the Morocco international told BBC Late Kick Off.
"I can make them both, but religion gives me more motivation to work in football and in life as well.
"Religion is very important for me, I need to pray, I need my relationship with Allah to be very good and after that I feel great.
"It gives me motivation to play football, to be good with my family and friends - when I am full of spirit I feel glad and I am happy."
Watch: Merouane Zemmama on his faith and football - BBC Late Kick Off
A key aspect of Muslim life is prayer, and Zemmama has become a regular visitor to a local Mosque following his January switch to Teesside from Scottish club Hibernian.
The Mosque provides a place of worship, as well as a sense of community for the player and his family.
"The first prayer is at 0545 BST, this one I cannot make, so I pray at home," Zemmama added.
"The second one is Dhuhr at 1400 BST, this one as well, after training I need to go home and relax, so I pray only at home, I have a good rest and come back for prayer at 1830 BST.
"Friday is a big day for us, we all have to be here at the mosque at 1300 BST, have a chat with the imam, and at 1330 the prayer starts, ends at 1345 and then it is home to have a rest."
Zemmama has been helped by the manager Tony Mowbray and his new team-mates to work his prayer schedule around the club's matchday preparations.
"I need to pray before each game, and thanks to the club, at every stadium we go to I find a quiet room to do my prayer.
Zemmama is not the first Moroccan, nor Muslim to play in the English and Scottish leagues, as the former Coventry City trio of Mustapha Hadji, Youssef Safri and Youssef Chippo experienced similar circumstances.
The Islamic month of Ramadan is a hugely important period in the Muslim calendar, as it represents the month of fasting.
However for 2011, Ramadan falls between the 1-29 August, right at the start of the football season, and touching on one of the most important periods for a footballer - pre-season.
"We have to fast for a whole month, from sunset to sunrise, but it's no problem, we've done it for a lot of years now and we're used to it.
"I wake up at 0400 to have something to eat and drink, and that will keep you for the rest of the day.
"When I was in Edinburgh [with Hibernian] we had a fitness test when I was fasting and I did better than when I was eating.
"The spirit is more important to me, because even when I don't eat, I can train and do everything."
BBC Late Kick Off - North East & Cumbria is broadcast on Monday nights - times may vary.