Tottenham boss Harry Redknapp sets sights on top four
Last updated on .From the section Football
Tottenham boss Harry Redknapp has targeted another Champions League campaign after Real Madrid knocked his side out of this season's competition.
Spurs are three points behind fourth-placed Manchester City in the Premier League and Redknapp said: "It's very difficult to retain that top-four spot.
"But that's something we've got to aim to do at Tottenham."
He added: "We've got to be up there every year. We should be. If we can make the top four again, it would be a great achievement.
"It will be even harder this year than it was last year because of the improvement Man City have made.
"I still think we've got a big chance. We've got tough games. We've got Arsenal here next week, then we've got Chelsea, we've got to go to Man City.
"But they're great games to look forward to and it's good to be in there playing these games and having something to play for still.
"It's better than sitting 12th in the league. It's got the makings of a good end of season again."
Tottenham's campaign in the Champions League this time around was effectively ended when they lost 4-0 in a first leg in which striker Peter Crouch was crucially sent-off early on.
The deficit was too much for them to recover in the return at White Hart Lane, although they were denied a couple of early penalty claims and striker Roman Pavlyuchenko missed a promising chance.
However, they failed to engineer a breakthrough and Real were gifted a 1-0 win when keeper Heurelho Gomes fumbled a 25-yard Cristiano Ronaldo shot and could not stop the ball trickling into his net.
"Going down to 10 men away from home made it an impossible task for us," said Redknapp.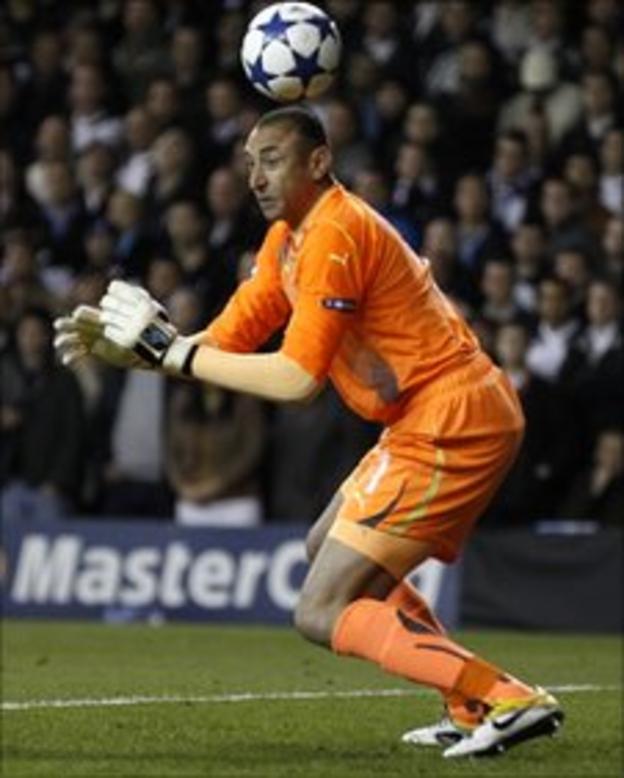 "The goal [in the return leg] was disappointing but the goalkeeper's been great for us and he's made saves that he's had no right to make in the past.
"He's made a rare mistake but that's how it goes."
Redknapp was less complimentary about the extra officials behind the goals following his side not being awarded a penalty for a foul on Luka Modric by Xabi Alonso.
"I thought that it was a foul on Modric for sure," commented Redknapp. "But sometimes you get them, sometimes you don't.
"I sometimes wonder what the guy behind the goal is doing there. He must be there for some reason but I still haven't worked out why."
Real Madrid will now face the mouth-watering prospect of a semi-final against arch rivals Barcelona.
The two legs in the last four of the Champions League will end an enticing run of four games against the Catalan club in 18 days.
Real play host to Barcelona in the league on 16 April before they play at Valencia's Mestella Stadium in the Spanish Cup final four days later.
The two clubs then meet in the first leg of their Champions League semi-final at the Bernabeu on 27 April before the return at Barcelona on 3 May.
Mourinho's side were beaten 5-0 by the Nou Camp outfit earlier on this season but the Portuguese masterminded Inter Milan's victory over Barcelona on the way to Champions League glory last season.
"Let's see what happens against Barcelona," said Mourinho. "We have ambition, a semi is a semi and anything can happen.
"I am not of the opinion that what happens in first game can influence what happens in the second, third or fourth.
"When I get back to work, I will be thinking about Saturday's game; not Wednesday or the Champions League."
Mourinho also insisted he was right to name a strong team despite losing defender Ricardo Carvalho for the first leg of the semi-finals after he picked up a booking against Spurs on Wednesday.
The former Inter coach was punished earlier this season for ordering his players to get themselves deliberately cautioned to earn convenient suspensions.
But having picked four of five players who were already in yellow cards at White Hart Lane he complained that there were double-standards with regard to the issue.
Barcelona's Andres Iniesta missed the second leg of the semi-final against Shakhtar Donetsk on Tuesday after being booked in the first leg where his team won 5-1 in Spain.
"Maybe you have to find a reason why Mourinho cannot clean yellow cards and other coaches can," the Real coach said.
"To be honest, as I always am, when we scored the fourth goal against Tottenham at the Bernabeu, my assistant told me, 'Yellow card to Cristiano Ronaldo and to Ricardo Carvalho'.
"And I told him, 'No way, because, if we do it, I am suspended for the semi-finals and my players are suspended for the semi-finals'.
"The next day, we are at home. Another coach did it, another player did it."