Holloway makes renewed plea for video technology
Last updated on .From the section Football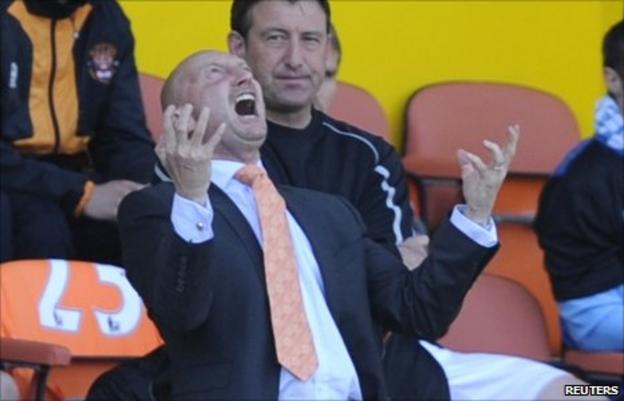 Blackpool manager Ian Holloway believes the introduction of video technology would help to prevent decisions from going unfairly against smaller clubs.
On a rejected penalty claim in Sunday's loss to Arsenal, he said: "All I'm asking for is the technology that should have made that decision right.
"We're still on a wing and a prayer of a bloke who can't see what the television cameras see.
"And it makes him look a bit silly after," Holloway added.
The focus of Holloway's anger is Laurent Koscielny's tackle on Gary Taylor-Fletcher in the penalty area moments after Blackpool had pulled a goal back to cut Arsenal's lead to 2-1.
A spot-kick was not given by referee Lee Mason and Arsenal went on to score again and seal the three points.
"Last week, we almost turned it around against the second-best team in the league at the moment. Within five minutes, we should have been at 2-2 and I am spitting feathers about that - almost venom - because how many times this season have we had that?" said Holloway.
"I've watched it and had a week to reflect on it and I still feel the same. I wonder how many other managers of smaller clubs feel that way as well?
"Once I watched it again, I had to bite my lip. I cannot believe what I saw - at that moment, when we had just got back to 2-1 and we had the impetus. It was there and it was taken away from us again."
Never one to mince his words and at the risk of falling foul of the FA's Respect agenda, Holloway insisted that it is not the first time his team had suffered what he perceives to be injustices at the hands of the big clubs.
He said: "The viewers at home will have seen it - Manchester City at home, Manchester United when we were 2-0 up, with the penalty we should have had when Luke Varney was barged sideways.
"Can't see it, didn't give it - how many times does that happen? I wonder if it was up the other end they might have seen it? It might have been an easier decision for them.
"Maybe they [bigger clubs] don't want to change it [to bring in technology], but us little ones do. Maybe we are just totally paranoid - maybe I'm just [manager of] too small a club in my own mind.
"But I don't think so. Let's get every decision right and we'll all be buzzing."