Rangers face second charge of sectarian singing by fans
Last updated on .From the section Football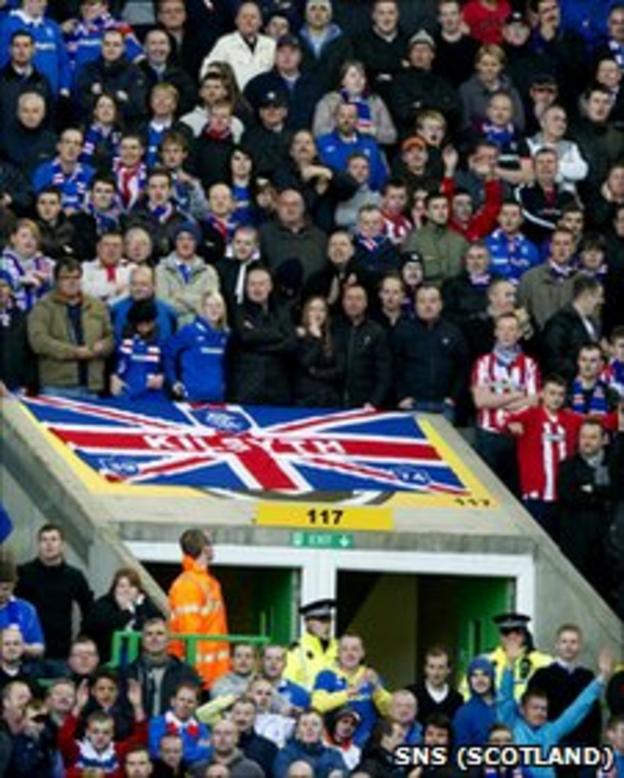 Rangers are facing fresh allegations of sectarian singing against their fans and fear being forced into playing games behind closed doors next season.
The Scottish champions were already facing allegations of sectarian singing at the away leg of their Europa League match with PSV Eindhoven.
They are now facing similar charges following the home leg of the tie.
But Rangers have vowed to fight the charges and believe there is a concerted campaign against them.
They were facing a heavy fine and a two-match ban on their travelling fans following the initial allegations.
And a similar penalty could be imposed for their home matches should they be found guilty of the latest charge.
Rangers chief executive Martin Bain said he would launch a vigorous defence when both charges are heard by Uefa on 28 April.
"We have been informed tonight that we are now to be punished for alleged sectarian singing at Ibrox during the Europa League home game against PSV Eindhoven in addition to sanctions for alleged singing at the away match," he told Rangers' website.
"We are absolutely astounded by this latest development and will defend our club's position very, very vigorously.
"We are still in the process of preparing our submission on the away game and to be confronted with this now seems chaotic to say the least.
"We have never said that sectarian singing is not a problem, but this now has all the hallmarks of a deliberate and targeted campaign against the club.
"What else are we expected to believe when Uefa officials give us favourable reports at our matches only to indict us later on the evidence of an outside unaccountable body?
"We could not have done more to eradicate sectarian behaviour.
"We will be seeking urgent meetings with Uefa at the highest level to address these issues.
"It would appear that yet again Uefa have acted on a report from the FARE (Football Against Racism in Europe) organisation when their own match delegate, this time from Northern Ireland, gave us a very favourable report."
FARE claims to represent a network of organisations from 37 countries that aim to tackle discrimination and racism in football.
And they released a statement in response to Bain's comments, saying: "The FARE network is focused only on our core mission of tackling discrimination in football and encouraging social inclusion through the game. We have no axe to grind with any club."
The Glasgow club were fined £8,280 by European football's governing body for their fans' behaviour during a match against Osasuna in May 2007.
Scottish Football Association chief executive Stewart Regan, who was involved in a recent summit with the Rangers, Celtic, the Scottish Government and Strathclyde Police officials in a bid to fight sectarianism, was dismayed by the latest news.
"It is very sad for Scottish football that a decision like this has been made," he said, pointing out that Rangers have the right to appeal.
"Clearly there are commercial implications for the club and nobody likes to see matches played behind closed doors.
"I suppose - having attended the Uefa Congress in Paris a few weeks ago, where Michel Platini made it very clear that Uefa's stance on racism and on sectarianism was going to involve a zero-tolerance approach - that they are carrying out their intention.
"I know Martin Bain and the team at Rangers will be putting forward their case that they are doing all they can to try and stamp out their behaviour, but clearly the fans have let them down on the night."
Coincidentally, Rangers supporters' groups were meeting police and the procurator fiscal on Thursday ahead of the next Old Firm derby, where a specialist team of officers will be deployed in a bid to tackle sectarianism.
The Rangers fans were looking to clarify what words and songs would be deemed unacceptable by the authorities.