The £50m question: What is wrong with Fernando Torres?
By Sam Sheringham
BBC Sport
Last updated on .From the section Football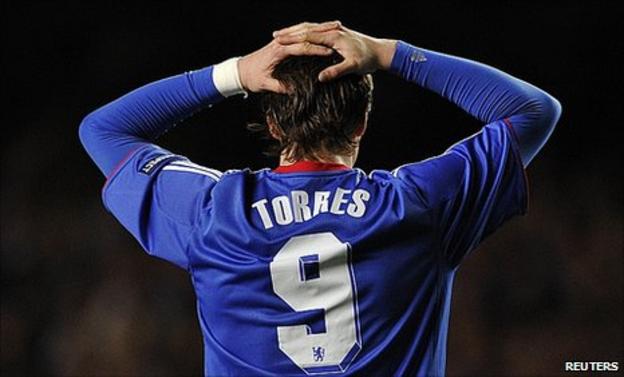 Watching Fernando Torres toil on the Old Trafford turf on Tuesday, I was reminded of Rory McIlroy and his meltdown at Augusta two days earlier.
Two sportsmen, their minds a sea of confusion, enduring a painful public humiliation as they hopelessly grappled to rediscover the skills that took them to the top of their respective sports.
But while McIlroy, at 21, has plenty of time to build his mental strength and learn to produce his scintillating best in high-pressure situations, Torres is 27 - an age at which footballers traditionally reach the very peak of their powers.
The Spaniard's woeful form since his £50m transfer to Chelsea has led some to speculate that we may have seen the best of the striker, that a series of injuries have shorn Torres of that crucial spark which separates great forwards from the merely very good.
Others argue that Torres is simply suffering a crisis of confidence that will be remedied as soon as he scores his first goal for the Blues, or that Chelsea themselves need to adapt their system to suit their record signing.
Here, with analysis from former England striker Alan Shearer and Pedro Calvo, the Spaniard's ex-coach at the Atletico Madrid academy, we attempt to solve the Fernando Torres conundrum.
IS FITNESS THE ISSUE?
Torres's struggles in a Chelsea shirt have brought into sharp focus a decline which can actually be traced back to April 2010 at Liverpool when the Spaniard was ruled out for the rest of the season to undergo a second knee operation.
Having scored 22 goals in his previous 32 games, he was sidelined for six weeks before being rushed back to play for Spain in the World Cup.
At the tournament, Torres was a shadow of his former self, getting dropped after the quarter-finals and suffering a groin injury after coming on as a substitute in the final, which deprived him of any pre-season training with Liverpool.
Overall, in the 12 months since his surgery, Torres has found the net only 12 times in 47 matches for club and country.
Shearer says: "If you are going to be negative, you could say that he has not really played well for three or four consecutive games for a very long time now. You look at the World Cup, you look at his form for Liverpool with injuries, and his form for Chelsea.
"He could still be feeling his knee injury, but he has just had a £50m move so you would expect him to be free of injuries because of the huge medical he must have passed before his move to Chelsea."
Calvo says: "Fernando's lack of speed could definitely be a legacy from his injury lay-off. He has not had enough recovery time.
"He was raced back by Spain to be fit for the World Cup and he has maybe not had enough time to recover that speed.
"I think if he gets a full pre-season under his belt, he will see next season as a fresh start and he will get back to his best."
HAS HIS MIND GONE?
At his very best, Torres has that rare ability to take the viewer's breath away.
His destruction of Nemanja Vidic at Old Trafford, his Anfield volley against Blackburn and his unstoppable dipping strike against Sunderland were all moments of sublime skill, but they were also examples of a man brimming with self-confidence, at one with himself and his game.
Recently, there appears to be a disconnect between the Spaniard's mind and his body, resulting in him hesitating fatally in possession, taking an unnecessary extra touch or snatching at a chance.
So, how can Torres get his head back in the zone?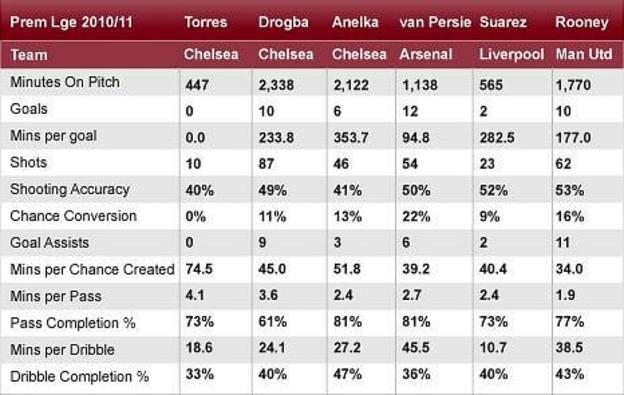 Shearer: "He just has zero confidence at the moment and he is playing within himself. At Old Trafford, he looked like a guy who was running on empty, completely shot of any confidence, with no belief at all. He looked very tired.
"But I know better than anyone that with a goal that could change. I'm sure you'll see a different Torres if he scores a goal.
"You have to try to stay as positive as you can. You've got to try to make things happen, things won't just happen for you.
"No one feels sorry for you. It's a lonely world up front on your own. People will constantly bring up his wages and his price tag but they had nothing to do with him. You have got to stay strong and stay focussed."
Calvo: "I'm convinced this is a sporting thing and not a mental thing. Fernando is a very strong person. If you give him any task, he sees it through to the end.
"When he was a youngster at Atletico, you could see he would become a special player. He was very intelligent and always tried to help other players. He was an example to everyone at the club.
"All strikers go on streaks where they can't score. Fernando just needs time to adapt to a new team. If you join a new company, it takes time to learn the ropes. They do things in different ways."
ARE CHELSEA'S TACTICS TO BLAME?
At Liverpool, Torres generally operated as a central striker in a 4-4-1-1 system, whereas at Chelsea he is having to adjust to working alongside other forwards in a 4-4-2 or 4-3-3 formation.
As well as producing moments of individual brilliance for Liverpool, he developed crucial understandings with the likes of Steven Gerrard, Xabi Alonso and Yossi Benayoun.
Having joined Chelsea mid-season, the Spaniard has struggled to develop any chemistry with fellow strikers Didier Drogba and Nicolas Anelka or creative midfielders like Frank Lampard, Ramires or Florent Malouda.
So does Torres need to adapt to suit Chelsea, or do the Blues need to change their tactics and personnel and play to the Spaniard's strengths?
Calvo: "At Liverpool he was always looking to get on the shoulder of defenders and look for spaces in behind, whereas at Chelsea he keeps coming towards the ball because he has other forwards around him.
"Chelsea don't need to build a team around Torres but they need to adapt their style a bit to get the best out of him. They have great players but he has specific movements that they need to learn to understand, like Steven Gerrard did at Liverpool.
"I don't think it's so much adapting a system to a player, it is about working on specific plays that suit the player. He needs a situation in which when he moves, Frank Lampard already knows what he is going to do, so he can play the right pass in time for Torres to finish it off.
"But I'm not convinced Carlo Ancelotti has maximum faith in him like Rafael Benitez did. That can't be easy for a player."
Shearer: "He was the top dog at Liverpool and Madrid and at the moment he is certainly not the top dog at Chelsea.
"He joined Chelsea at a bad time. The team were struggling before he got there. He was expected to be the miracle saviour but that hasn't happened.
"There seems to be a little bit of unrest in the camp and I think one or two players might leave in the summer, while one or two might come in. That might be what Fernando needs."
WILL WE SEE THE BEST OF TORRES AGAIN?
Torres is not the first striker to arrive at Stamford Bridge and struggle to live up to his transfer fee. Chris Sutton, Mateja Kezman and Andriy Shevchenko have all been there before.
Moreover, football is littered with strikers like Robbie Fowler and Michael Owen, who achieved astonishing feats at a very young age, but after suffering injuries in the middle phase of their career, never quite rediscovered the potency that took them to the heights of the world game.
So is Torres in terminal decline, or will he return to wow the world again?
Calvo: "I am 100% certain that he will get back to his best. He scored goals in a weak team for Atletico Madrid and at Liverpool he improved even further.
"I'm sure he will rediscover his best form and I think English football is the best place for him to do that."
Shearer: "I really hope this is just a confidence thing for everyone's sake. I just think he needs to get to the end of the season, get a good pre-season behind him and then people can judge him. If he still doesn't produce next season then there is a problem."
With additional reporting by Alistair Magowan