Smith plays down league advantage
Last updated on .From the section Football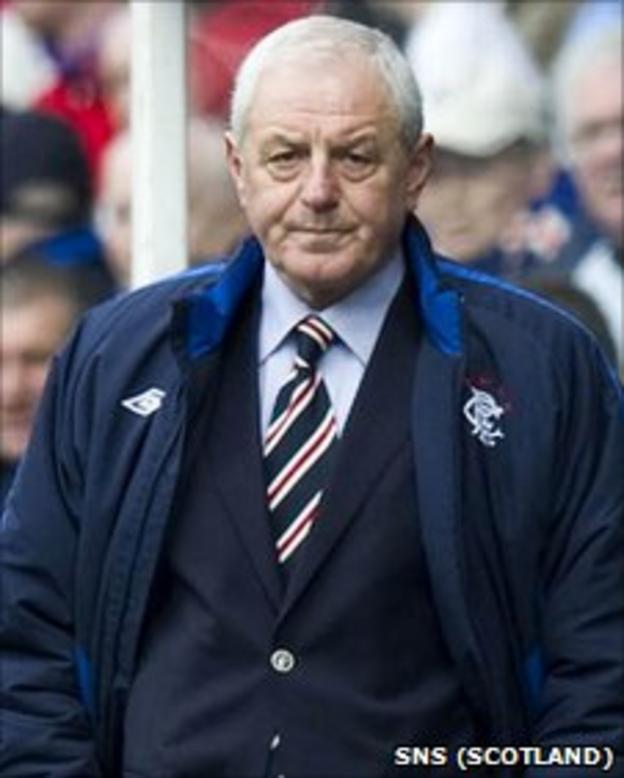 Rangers manager Walter Smith feels his side will hold no particular edge over Celtic should they open up a four-point gap in the Scottish Premier League.
Rangers travel to Dundee United on Tuesday, where a win will give them such a lead with two more games played.
"Whether you're a point behind or a point in front it doesn't matter," Smith told BBC Scotland.
"At the Old Firm you have to win every game. That's the pressure you face."
Smith was speaking after his team beat St Mirren 2-1 to go a point ahead of their Glasgow rivals, who are inactive in the league until Wednesday because of Scottish Cup commitments.
"Everybody keeps talking about a psycholigical edge but I don't think it makes a difference," continued Smith.
"Celtic are in the pole position at the present moment.
"It leaves us a situation where you have to win all your games.
"But that's not an unusual situation for us, whether it's at the start or the end of the season.
"I never said they were favourites.
"We have a game at Ibrox against them which could put it back in our favour.
"But we have all the other clubs to play at the same time and you can never underestimate any of them.
"We knew after our defeat to Dundee United here we had to go on a run of wins.
"We've managed to get four in-a-row now.
"It's only the start of what we had to do to if we're to retain the championship."
On Thursday it emerged that Rangers face fresh allegations of sectarian singing during the home leg of their Europa League defeat by PSV Eindhoven.
However, Smith says the threat of Uefa sanctions has not put a strain on his players.
"Not for the footballing side it hasn't; for eveything else surrounding the club it has.
"It's been a busy spell for us playing evey midweek so we don't have much time to think about a great deal else other than the football.
"We had to work very hard for the win today, I thought St Mirren were excellent.
"We're happy with results at the present moment. There are bits of our game we could improve on - there always is.
"But we're happy with the way things are going at the moment."