Inverness well placed for the future, says Butcher
Last updated on .From the section Football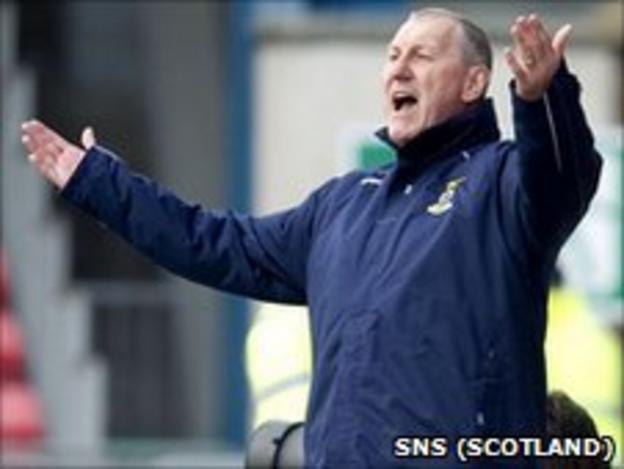 Inverness manager Terry Butcher is beginning to make plans for next season and feels the club are well placed for tying players down on contracts.
The Highlanders drew 1-1 with Hearts to consolidate seventh place in the Scottish Premier League.
"We've got players who want to come here and players that want to stay here, which is great," said Butcher.
"This club has put itself on the map and people down south are talking about us as a good SPL side, which is nice."
Butcher's men have been well clear of the relegation zone for some time and, though they are confirmed to be finishing in the bottom six, they did challenge for a top-half finish for much of the season.
"We can build for the future," said Butcher. "With 15 players out of contract it could be a busy summer.
"We'll try and get the business done before the end of the season and tell players and get contracts organised because with our contractual situation we finish on 31 May.
"The beauty of it is that players on loan or on one or two-year contracts love coming up here because they enjoy it, there's hardly any pressure on them.
"They enjoy their football, they love what they do and build their careers and hopefully go to bigger and better clubs for a bit of money as well.
"That attracts players and will attract players in the future."
Of the draw with Hearts, Butcher enjoyed the game but felt his side should have claimed more than a point.
"We are disappointed that we haven't won the game," he added. "Both teams had opportunities when they felt the ball was over the line at either end but the referee and linesman didn't give it.
"How it finished 1-1 I just don't know. For an end-of-season game or a game that on paper doesn't mean lot to anybody, it was absolutely brilliant.
"We could've been a couple of goals up even before we scored and after we scored we got through on several occasions and with a better final ball or a bit more confidence in the box we could've at least doubled the lead.
"We obviously want to get to the seventh spot and you could see with the players how much of a desire and belief that they can get that position."