Gareth Bale should stay at Spurs, says Cliff Jones
Last updated on .From the section Football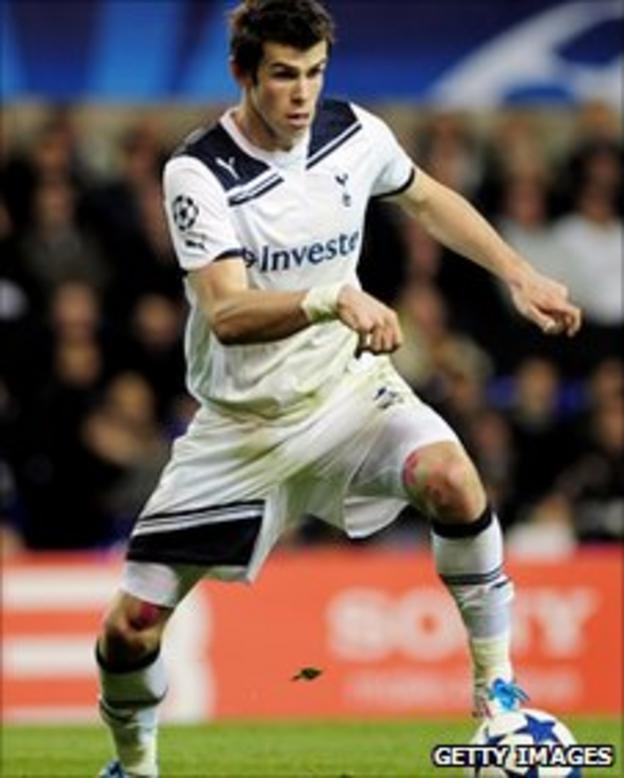 Wales legend Cliff Jones believes that Gareth Bale can fulfil his ambitions by staying with Tottenham Hotspur rather than join a European giant.
Following his performances for Harry Redknapp's side, Bale has been linked to some of the biggest clubs in Europe.
"I know that Harry will be having a difficult task now to fend off overseas interest in Gareth," said Jones.
"I would not like to see him move from White Hart Lane. I had 10 great years there and had a wonderful career.
"Gareth can have exactly the same thing and I'm sure he would be a big part of Harry's plans for Spurs to move forward in the future."
Bale was the fourth Welshman to win the PFA award after Ian Rush, Mark Hughes and Ryan Giggs.
He has scored 11 goals in 36 club games this season and starred for his club in their Champions League campaign, going from strength to strength since joining from Southampton in 2007.
The undoubted highlight was a stunning second half hat-trick against Inter Milan at the San Siro last October.
Jones, who played for Tottenham between 1958 and 1968, considers his fellow Welshman among the best in Europe.
"Gareth has been outstanding this season and he's taken the Premiership by storm and he's certainly taken Europe by storm big time," said Jones, who is a matchday host at White Hart Lane.
"Gareth can become one of the very best, there's no doubt about that. He's certainly got the game, he has terrific pace [and] the most wonderful left foot.
"I suppose the only thing you could say Gareth might have to work on somewhat is his heading ability. But I'm sure that will come along.
"He's certainly, at this moment, one of the top players in Europe."