Lee McCulloch eyes 'massive' Rangers wins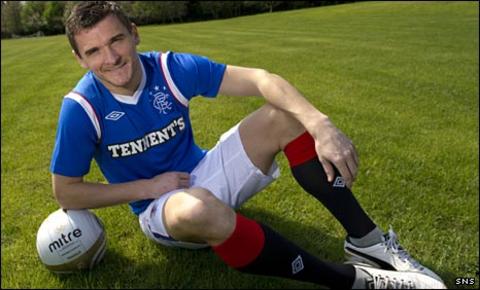 Lee McCulloch believes wins in Rangers' next two matches against Dundee United and Celtic would be a "massive" step towards retaining the Scottish title.
Rangers can go four points clear at the top of the league with a win at Tannadice on Tuesday, though Celtic would have two games in hand.
"It would see us in the home run - still with tough games to go - and just obviously gives us a better chance.
"But it's easier said than done," said midfielder McCulloch.
Celtic play Kilmarnock the day after Rangers face United before a visit to Ibrox on Sunday for the final Old Firm clash of the season.
McCulloch knows victory over United will be a hard enough task, having seen them win 3-2 at Ibrox earlier this month.
"With Celtic playing on the Wednesday, we could go a few points clear and maybe it puts a little bit of pressure on Celtic, but then they've shown they can cope with that pressure as well, so you expect them to win on Wednesday night as well," he said.
"Just as long as we look after ourselves and try to get three points, that's all that matters."
McCulloch is still recovering from the knee operation that has caused him to be out of action since the beginning of February.
Having suffered some swelling around the problem area following his first attempt at resuming training, he is hoping to try again at the end of this week, with an outside chance he could be involved against Celtic on Sunday.
With the destination of the Scottish Premier League title to be decided in the final weeks of the season, McCulloch is desperate to be involved in the season's denouement.
"When it goes right down to the wire, that's when the nerves start kicking in and it's a good opportunity to show what character you've got and your self-belief," he added.
"It's not really about individual talent, it's about belief in your team-mates and everyone pulling in the one direction - and I think we've had that in the last couple of seasons.
"If there's any way of using the experience we've gained over the past couple of seasons, we'll do that."
His manager, Walter Smith, will have no qualms about pitching McCulloch in for the final games of the season but believes there is a flip side to the "experience" argument when it comes to winning the title.
"You're always hoping the experience will be a good thing for you," said Smith. "But, on the other hand, Celtic have a freshness about them that can counter that.
"So it goes down to how we do and how we handle the matches and I'm afraid the old managerial adage of taking one game at a time is exactly what you have to do at this stage of the season."