Gers assistant Ally McCoist wants chant fans arrested
By Chris McLaughlin
BBC Scotland
Last updated on .From the section Football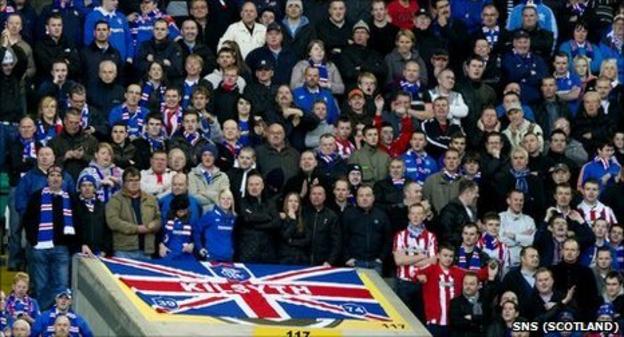 Rangers assistant manager Ally McCoist wants the club's fans arrested if they continue to sing sectarian songs.
The Ibrox club have been charged by Uefa over their fans' chanting at Europa League ties with PSV Eindhoven.
"Maybe getting arrested will stop it," McCoist told BBC Scotland. "It might take police going into grounds all over the country and arresting people.
"Because it doesn't seem to bother them that it's going to have massive financial implications to our club."
Rangers chief executive Martin Bain says the club is "utterly dismayed" by Uefa's decision and that they will defend the club's position "vigorously".
Rangers were fined £8,280 by Uefa for their fans' behaviour during a match against Osasuna in May 2007 and McCoist admitted he was at a loss as to what further action the club could take to tackle the problem.
"You have to question whether they're Rangers supporters," said McCoist. "It absolutely baffles me.
"I honestly don't know what more the clubs can do.
"We sit down, we go through it - we obviously want it stamped out - and, as a club, you do your best, but it might take police action, to be frank.
"The players and the club will be punished by having to play our games behind closed doors - but if it's deemed to be a criminal offence, then the police should just go in and arrest these people, wherever they may be."
"It's been about for an awful long time, but I honestly think it's better than it's been in terms of when I started playing 30 years ago.
"I think it's better since then, but it's obviously still not good enough. Until we stamp it out and get rid of the problem - which is what all decent-minded folk want - then we'll still have the problem."
Bain released a statement after Uefa announced a second charge of sectarian signing, suggesting that the governing body had acted on a report from the FARE (Football Against Racism in Europe) organisation, despite receiving a favourable report from the official match delegate for both legs of the tie with PSV Eindhoven.
FARE claims to represent a network of organisations from 37 countries that aim to tackle discrimination and racism in football, and they released a statement in response to Bain's comments, saying: "The FARE network is focused only on our core mission of tackling discrimination in football and encouraging social inclusion through the game. We have no axe to grind with any club."
McCoist insisted that if Rangers are punished on the basis of a FARE report, the club has the right to know more about the evidence submitted against them.
"I don't know enough about it," said McCoist. "I don't know anything about this organisation - but if they're responsible for giving us a two game home ban, we're entitled to know who they are, who it is that has reported on it and what the report was.
"I think that's the least we're entitled to.
"We certainly have a small minority of our support that obviously don't hold their own values to our club's great traditions.
"All we can do is appeal to them, ask them to stop doing it because it's having a major effect on the team and the club.
"But I'm not telling them something that hasn't been said to them for years.
"We've been preaching that we don't want these songs sung, because in this day and age, they're not correct.
"For us to move forward, we have to leave it behind us."