Celtic manager Neil Lennon relishing British Cup idea
By John Barnes
BBC Scotland
Last updated on .From the section Football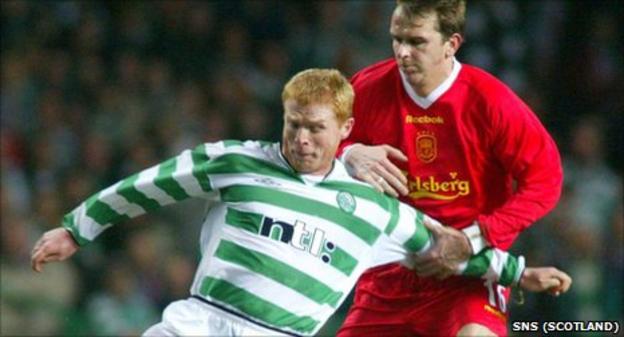 Celtic manager Neil Lennon would welcome the chance of his side playing in a British Cup.
The suggestion of Scottish clubs facing their English counterparts has been proposed as part the latest Scottish Premier League reconstruction talks.
"It's quite exciting," said Lennon. "I quite like the prospect of that.
"If it comes off, I think it would be great for us to go down there and play against opposition and it would be great for the supporters as well."
The SPL has said it will explore the creation of a British League Cup if plans for a major shake-up of the game are ratified.
BBC Scotland gained access to the SPL's 100-page strategic plan, which includes plans for a 10-team top-flight.
Lennon suggested that, if Scottish clubs were to feature in a cross-border competition, it would demonstrate that Celtic and Rangers could play in the English League.
"It could be one step in the right direction if it's a possibility," said Lennon.
"Historicaly, if you look at last year, there was a vote from the Premier League chairman 22 to nil, so I think that was quite unanimous in their thinking of what they thought about us coming down the road.
"It's innovative, but if it comes off then we'd welcome it."
The idea of a British club tournament has been proposed in recent years, with a 2001 proposal backed by Aberdeen chairman Stewart Milne, which was ultimately rejected by the Football League in England.
In 1902, Celtic won a British League Cup competition, which was organised to raise money for the Ibrox Stadium disaster and included the winners and runners-up of the Scottish and English Football Leagues.
Several other official and unofficial cross-border competitions have also taken place over the decades, including the Empire Exhibition Trophy in 1938 and the Coronation Cup in 1957, both of which Celtic also won.
Having enjoyed success as a Celtic player against English clubs in European ties, Lennon insisted it would be a great incentive for players to play against a high level of of opposition.
"It would be great for the game and for the British game as well," said Lennon.
"When I played Blackburn and Liverpool and even pre-season games with Manchester United, Tottenham and Fulham, the atmosphere was fantastic.
"Even down at the Emirates Stadium pre-season was an amazing spectacle and I think that's certainly what our supporters would bring to the game down there."