Derby always vital, says Rangers manager Walter Smith
Last updated on .From the section Football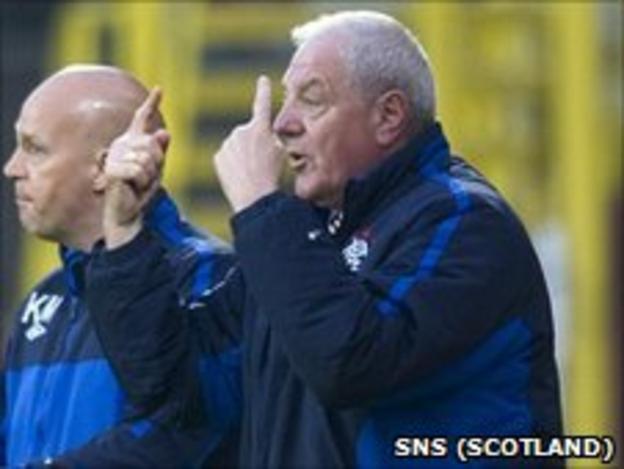 Walter Smith was pleased to see Rangers pick up a 4-0 win over Dundee United ahead of Sunday's Old Firm match.
But Ibrox boss Smith insists neither his side or Celtic should need any additional motivation for the final derby of the season.
"I don't think at this stage of the season that either team will need a lift," said Smith.
"You're aware of the importance of the games, so I don't think anyone will need any lifting for that one."
United conceded three penalties and had a men sent off on each occasion by referee Willie Collum in Rangers' win.
Steven Whittaker converted the first two spot-kicks but missed the third, but Nikica Jelavic and Kyle Lafferty scored from open play to add to the score.
"The main thing is to win at the present moment," said Smith. "We were obviously worried about coming here because it's a difficult place to come to and win. We knew that we were going to have to play extremely well to do so.
"As it was, the circumstances more than anything else dictated how the game was going to play, but we were obviously delighted to win the match.
"I felt that each of the penalties were penalties and nowadays the rules state that that's the consequence if you're going to do what happened there.
"It was an awkward circumstance for Dundee United, it's an awkward circumstance overall."
The game was similar to a match in 1996 during Smith's first spell as Rangers manager when Hearts had four players sent off as they lost 3-0 at Ibrox.
"It's happened to me once before a few years ago when we had the same circumstance with Hearts at Ibrox," added Smith. "It's not easy for anybody and it's not what anybody would want.
"I've got to stress, the penalties were penalties, I don't think anybody could argue with that. The consequences are there for everybody to see and I think the referee had to do what he had to do in the game.
"The incidents were fairly isolated, so he was able to see them quite clearly. Sometimes, if it's a crowded penalty area, you're never quite sure.
"It makes it more difficult for the referee to give the decision knowing he has two decisions to make.
"It's an awkward one for him. I felt tonight's were perfectly correct, but it certainly dictates the manner in which the game would be played after that."