Peter Houston critical of Dundee Utd's three red cards
Last updated on .From the section Football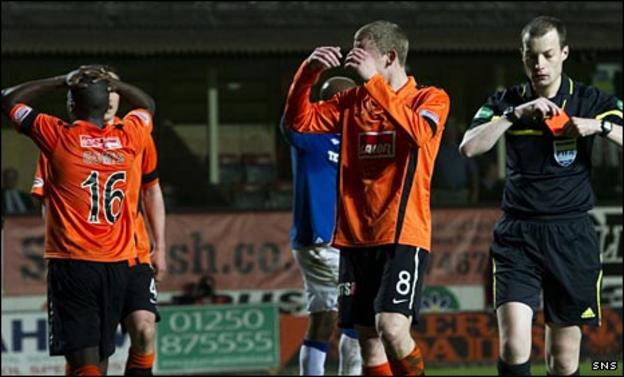 Dundee United manager Peter Houston says he fears for the game if every penalty conceded results in a red card.
Houston did not dispute Rangers' three spot-kick awards as United had a trio of players sent off in a 4-0 defeat.
But he said: "I worry about the game and where it's going to if we are going to have straight red cards for every incident that's happening in the box.
"I am frustrated that we have had three players sent off in a game when there was hardly a tackle put in."
The defeat leaves United nine points behind Hearts and Houston condedes that his side's chances of overtaking the Edinburgh side to grab third spot have all but disappeared.
"Probably non-existant, but I am not even thinking of that," he said ahead of Saturday's visit by fifth-top Kilmarnock.
"I am going to look forward to Saturday. We have a huge game, but we have three players missing.
"I am proud of the way the players played. I thought in the first half there was nothing in the game apart from the sending off and a penalty kick.
"They hadn't scored from open play until we went down to nine men.
"Don't tell me there were four goals of a difference in the game."
Steven Whittaker gave Rangers a 22nd-minute lead after Steven Naismith was brought down by Mihael Kovacevic.
Whittaker's second penalty success came after Sean Dillon followed for a foul on Nikica Jelavic.
And, in between late goals from Jelavic and Kyle Lafferty, Whittaker missed the chance of a hat-trick of penalties after Morgaro Gomis was sent packing for a nudge of El Hadji Diouf.
The same referee, Willie Collum, had also sent off Aberdeen's Andrew Considine in similar circumstances in Celtic's Scottish Cup semi-final win at the weekend and Houston said it was a worrying trend.
"I have got to say I think, first and foremost, probably three penalty kicks. I have no complaints," said the United boss, who knew nothing of claims that Dillon's challenge was outside the box.
"The first one, the boys in the dressing-room are saying there is nothing in it.
"The referee's called it and, if there is a goalscoring opportunity and Naismith's going to put the ball in the net and Mihael does it, then it's a red card.
"Sean's made the tackle and you are always risking something. If it is outside, it is something I will need to see.
"Gomis's red card, for me, is unbelievable - a cross coming in, the ball's in the air. Sean Dillon's nudged Lafferty early on and he's not given a foul for the same thing that he has sent off Morgaro Gomis for.
"The referees will say that, by the letter of the law, it is a straight red. You saw the same with Andy Considine on Sunday and, whether it was a touch on Sunday, it is debatable in the opinion of some, but he gets a staight red.
"I feel huge disappointment, but it was a magnificent effort from our players and I am absolutely disgusted with the way the game's going if that's three red cards."