East End Park prepares for biggest game in 15 years
By Brian McLauchlin
BBC Scotland
Last updated on .From the section Football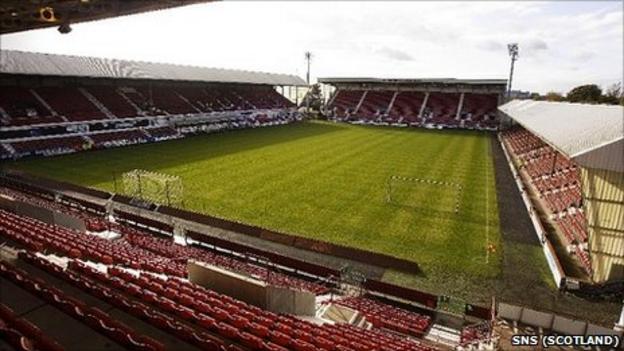 "There's a buzz about the place" - a phrase we often hear from a manager or player talking about their club.
However, when I arrived at East End Park on Wednesday morning, it was truly the case.
On Saturday, Dunfermline entertain near-neighbours and rivals Raith Rovers, and the club was a hive of activity getting the stadium ready for the big day.
The match will be a sell-out - the first time this has happened since Bert Paton led the club into the Premier League in 1996 - and Saturday's match against their rivals has certainly captured the imagination of almost everyone in Fife.
Matt Ford, the PR and marketing manager at East End Park, told BBC Scotland: "The place has been absolutely buzzing for the past couple of weeks.
"This is the biggest Fife derby we have had in years - if not ever.
"The phones have been ringing off the hook at the ticket office for weeks.
"We have not had a sell-out since we restructured the ground in 2002 and, looking back, I think it has been 15 years since the stadium was full."
This season Dunfermline have been averaging around 4,000 fans for home games but this weekend the attendance will be more than 11,000.
While it's a welcome boost to the club's coffers, the large attendance brings its own problems.
"It's certainly a logistical nightmare for people like the stadium manager who have been having constant meetings with the police," said Ford.
"You have a lot more organisation for an attendance like this. It will be a hectic day but it will be good to have East End Park bouncing again for a game like this."
Hospitality for the match has been sold out for weeks but operations manager Margaret Miller says they will have no problems coping with the extra numbers.
She told BBC Scotland: "We will take it with a pinch of salt. It's not been too bad because we are quite well organised.
"The main issue is making sure there are enough staff at the bars and kiosks, making sure they are properly briefed.
"It's also very important that we have extra security in the stadium."
And when the match is over and the fans spill out of the stadium the work continues for other events taking place later that evening.
"We have four parties taking place in the stadium on Saturday night. We need to make sure the function rooms are cleared and cleaned before we can get started again," added Miller.
The Pars lead their rivals by one point going into the match with only two matches to go after the weekend meeting.
Whichever team comes out on top will take a major step to securing a place in the top tier of Scottish football.