Gerard Houllier is wished well by fellow managers
Last updated on .From the section Football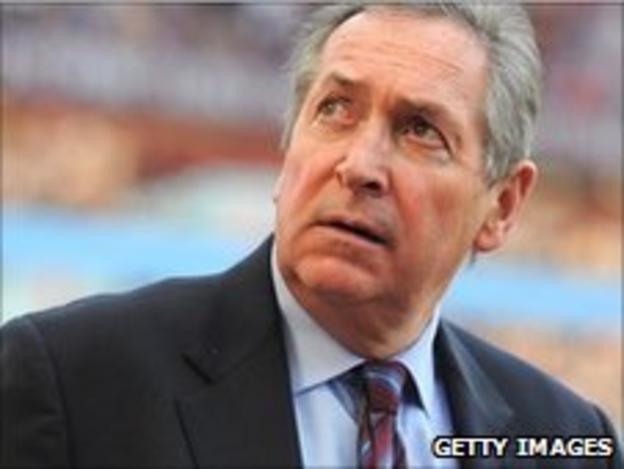 Fellow managers have wished Aston Villa boss Gerard Houllier a speedy recovery after he was admitted to hospital.
The 63-year-old was taken ill overnight in Birmingham and his condition is said to be comfortable.
Kenny Dalglish, manager of Houllier's former club Liverpool, was among those who wished the Frenchman well.
Dalglish said: "Your health is more important than anything, so we wish him well and I'm sure he is in the best possible hands."
Houllier was in charge of Liverpool when he underwent major surgery after suffering heart-related problems in 2001.
Dalglish continued: "Doctor [Mark] Waller is there, who was the club doctor here when Gerard fell ill in 2001, so he's got a good guy beside him and I'm sure the people there will do everything they can to help.
"We won't be morose about it because we don't understand [the nature of Houllier's problem], but we send him our best wishes."
Stoke manager Tony Pulis, whose side face Villa in the Premier League on Saturday, said: "Everyone in football will wish Gerard a swift recovery, we hope he is well and I am sure they will be looking after him.
"We have some fantastic medical people in this country and I am sure he will get well looked after.
"Irrespective of what medical care you get, nothing stops you from getting excited on the touchline or carrying the pressure on your shoulders if things aren't going too well. Pressure is part of the job, you get used to it."
Birmingham manager Alex McLeish is a close friend of Houllier and admits the Frenchman had appeared to be in a relaxed frame of mind in recent times.
"I hope all is well for Gerard. He has gone through a lot in his life," McLeish stated. "Since the [heart] operation, he has had a different perspective and seems cool and relaxed.
"But you never know what goes on inside of people and this job is highly stressful because of the massive stakes in the Premier League.
"The League Managers Association provide 24-7 support. The job is stressful but people also need a challenge otherwise they will do nothing in their life."
Everton boss David Moyes added: "I am saddened to hear about Gerard. He is a good friend and someone I got to know really well when he was manager at Liverpool.
"If you are listening Gerard, I hope you are well. Look after yourself, we are all thinking about you. I really do hope he is fine."
Manchester City boss Roberto Mancini also had kind words for Houllier.
"It is not easy because, when you are under pressure, you can have some problems," he commented. "But I hope Gerard comes out of hospital very quickly because he is a big person, a big manager.
"He is my friend and I hope he can be on the bench in the next game."
Sunderland manager Steve Bruce, who had a disagreement with Houllier in January over the sale of Darren Bent, said: "We all have words against each other and we defend our football club, but at times like these we wish him well.
"We hope he's not too bad and that he can have a speedy recovery. Everybody at Sunderland genuinely hopes that he's OK."
And Fulham boss Mark Hughes added: "Our thoughts are with Gerard and his family. It's a worrying time for them and his club because he's the figurehead.
"We hope its nothing too serious."
Houllier's assistant Gary McAllister took Thursday's training session and will take charge of the squad for Saturday's game at Villa Park.