Gary O'Neil to miss rest of season after ankle surgery
Last updated on .From the section Football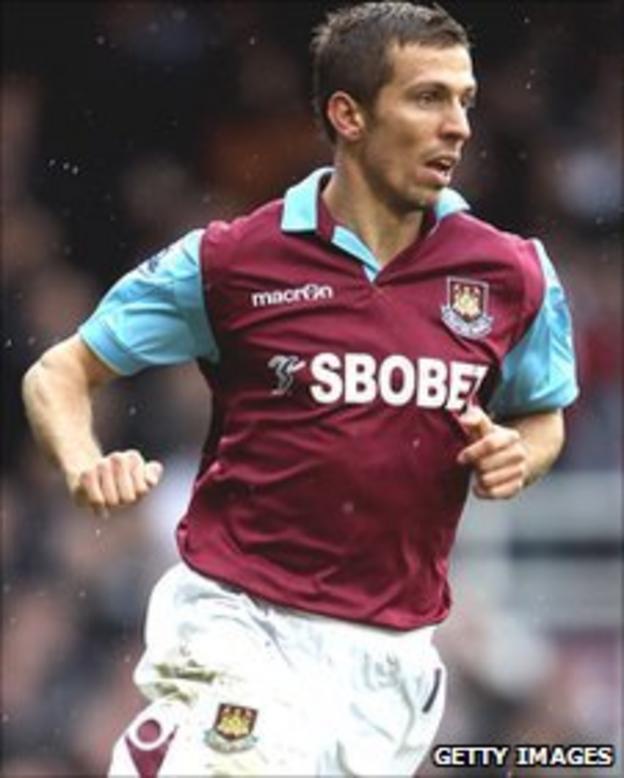 West Ham midfielder Gary O'Neil is set to miss the rest of the season after undergoing surgery on an ankle injury.
O'Neil said: "I have got some joint damage in the ankle which they had to sort but I am told it went well.
"I am disappointed not to be involved for the last five games but looking to get back as fast as I can next season."
O'Neill has made eight appearances for the Hammers after joining in January from Championship side Middlesbrough.
West Ham currently sit second from bottom in the Premier League table, two points from safety and they travel to Stamford Bridge on Saturday to face third-placed Chelsea.
"I will be right behind the lads and I'll be cheering them on at the remaining matches," continued O'Neil.
"I have got my head around the timescale involved for my comeback. I have just got to keep my foot up for a few weeks and then take it from there."
Reports have surfaced that O'Neil was considering legal action against Reo-Coker, but Villa assistant manager Gary McAllister insisted that the tackle was fair.
McAllister said: "I am surprised [about the reports]. I know Gary O'Neill quite well. I worked with him at Middlesbrough so, when I saw that the knock he got was bad, I got our video guys to show me the challenge.
"I've got to say it's a good tackle and it's the follow-through of Gary O'Neil which catches the base of Nigel's boot, where I think the problem comes from. Nigel clearly gets the ball. He's come from the side, not from the back and I just don't think Gary O'Neil has seen him.
"I think Nigel can rest assured it was a good tackle."
West Ham manager Avram Grant admitted he was disappointed to lose O'Neil at such a crucial stage in the campaign.
"It was a bad, bad injury," said Grant. "Gary is one of our best players, especially against the big teams. He has experience to work hard and he knows how to pass the ball.
"We missed him last week and it was not easy for us to play [without him]. He's a good lad who came to a new team and played like he's been with us for many, many years."
Grant also bemoaned his side's recent luck with injuries.
As well as O'Neil, Scott Parker, Kieron Dyer, Junior Stanislas and back-up keeper Peter Kurucz are ruled out of the Chelsea game, while Manuel Da Costa is doubtful.
"It's a fact that we have many, many injuries," he claimed. "We need to deal with them. We need to know how to take points even when players are injured.
"We spoke about this and we need to give everything for the club. Players and managers come and go, but I always say the club is more important than everybody."