Rangers' Walter Smith just relieved to be in title race
By Alasdair Lamont
BBC Scotland
Last updated on .From the section Football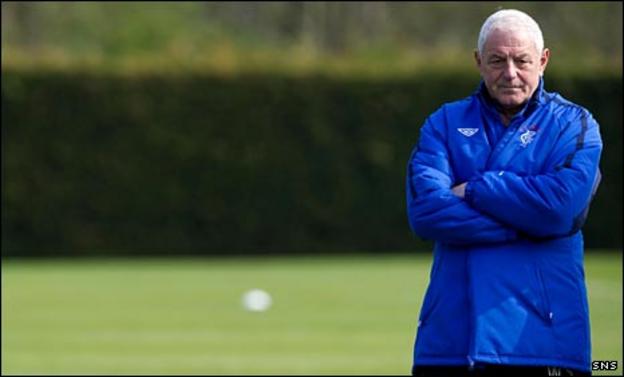 Rangers manager Walter Smith says there was a time earlier this season when he felt the club would struggle to compete for the Scottish Premier League title.
Smith acknowledged a draw in this Sunday's Old Firm game would keep the title race in Celtic's hands.
But he says he is pleased just to have remained in contention.
"We lost our top scorer, we had a lot of injuries, I never thought with five games to go we'd have an opportunity to win the league," he said.
"We've lost five games this season - I would usually say one defeat a quarter would keep you in contention - we've lost one more than that.
"So we're going into the last period of the season delighted we've still got the opportunity to go for the championship when midway through the season I thought that would have been really doubtful."
Smith, who is taking charge of his final Old Firm derby as Rangers manager before standing down at the end of the season, believes the relative strengths and sizes of the squads of Rangers and Celtic is now less relevant than it was earlier in the season.
"We have a smaller squad, but we can put on a decent team and that's what we've been doing for the last few weeks," he said.
"I said after our defeat to Dundee United that we would need to go on a run of wins.
"We've started that run. If we're hoping to retain the championship then we've got to complete it."
While Smith is trying to concentrate on securing a third consecutive SPL title, the proposed takeover of the club rumbles on, with an alternative to Craig Whyte's bid put forward this week by a consortium headed by club director Paul Murray.
Though Smith is more familiar with Murray and his associates, he says that does not dictate his preference for who finally takes control of the club.
"With the situation the club's in, if you're asking me purely from a football perspective, the person who's going to invest most money in the team, which hasn't had a great deal of investment over the last few years, is going to be the best person to take over," he said.
"I would think the football aspect would dominate more than any other. The screens missing from the corners of the pitch - I don't think the supporters would bother about that if there was a team on the pitch that they would want to come and see.
"The team desperately needs re-investment, so I would be happy to see whoever if they're willing to invest in the team."