Steve Jones aims for contract with Motherwell
Last updated on .From the section Football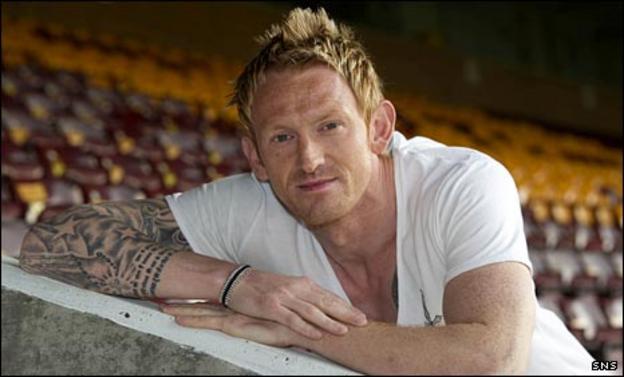 Motherwell winger Steve Jones is focussed on winning a new deal after manager Stuart McCall held initial talks with out-of-contract players.
The 34-year-old winger is on loan from Walsall and hopes for an extended stay at Fir Park.
"My contract at Walsall finishes in May and obviously I am a free agent and hopefully something might happen," he said.
"I think the decision will be left to the end of the season."
Jones has made 11 appearances after being farmed out by the League One outfit in January but is also training to take up coaching.
"I want to concentrate on the football with Motherwell to earn a new deal because otherwise I could be working in Tescos this time next year," he said.
"But I am confident of my ability and I think I have a few games left.
"I am doing the second part of the A-licence course in Belfast and I will take it from there, but I am hanging on because I still think I can give a lot."
McCall has spoken to some of his out-of-contract players and more will follow with their representatives over the next week.
The Fir Park boss hopes to conclude negotiations in advance of the Scottish Cup final, but he is aware he may lose out to other clubs who can offer his players better deals.
"I've had a couple of chats with a couple of players," he said. "Actually this afternoon I'm meeting with one of the agents and next week I'm meeting another agent.
"If it was just me and the player, it'd be okay I think, but obviously agents are getting involved, which is understandable.
"We'd be hopeful. The bottom line is there's a lot to be said for job satisfaction. That's the bribing route I'm going down.
"I think one or two of them might get offered a little bit more money elsewhere, but there's a good feeling about the club at the moment, it's going in the right direction and we'd love to keep a lot of the boys that are here.
"We'll know more no doubt as contract talks go on. The players have got all the power nowadays, but having said that we can only wait so long."
Seasoned campaigners who are out of contract with the Lanarkshire club are captain Stephen Craigan, striker John Sutton and midfielder Steve Jennings.
The contracts of reserve goalkeeper Lee Hollis and striker Esteban Casagolda are also up.
The short-term deals of Maurice Ross and Francis Jeffers expire at the end of the season, as does the loan period of Gavin Gunning from Blackburn Rovers.
Boosted by claiming their place in the Scottish Cup final last week McCall is keen to utilise his squad to the full in their remaining league matches before their day at Hampden against Celtic.