Paul Hartley concern about Aberdeen future
Last updated on .From the section Football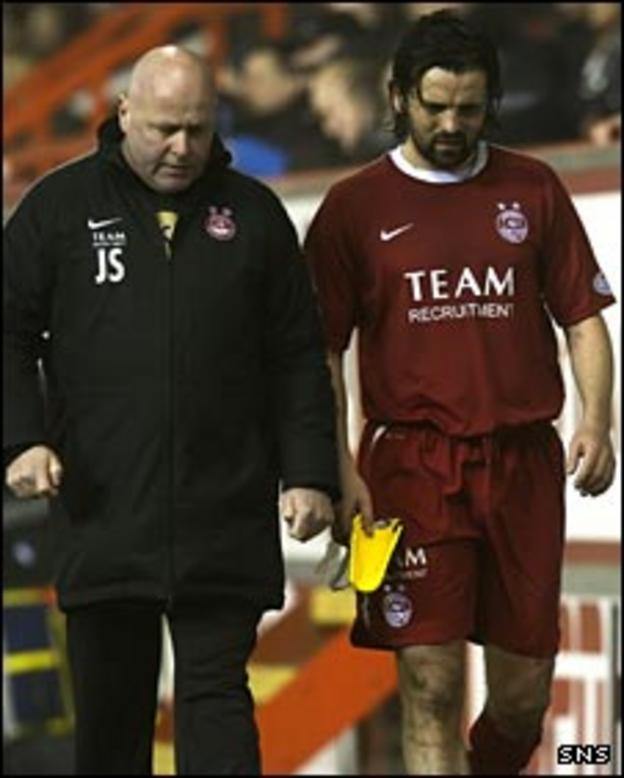 Aberdeen manager Craig Brown hopes to persuade Paul Hartley he can cope with another season in Scotland's top flight despite the midfielder's own doubts.
The 34-year-old has a year remaining of his contract but could miss the final games of the season because of a persistent knee injury.
"Maybe the rest will cure Paul and he'll be ready for action next season," said Brown.
"We'll have a chat with him at the end of the season."
Hartley has made 32 appearances this season but has not played since 16 March.
The Scotland midfielder was taken off injured during a 2-1 win over St Mirren.
And he exacerbated the injury in trying to prove his fitness for last week's Scottish Cup semi-final, which the Dons lost 4-0 to Celtic.
"He did indicate, around about the time of his injury, that he was feeling his legs a bit towards the end of the season," said Brown.
"He's such a genuine guy and so enthusiastic and he felt his body was suffering a little.
"He was carrying this team and playing manfully.
"He tried to rush himself to get fit for the semi-final and just failed. Maybe he pushed himself too hard.
"He was so anxious to try to make the Hampden game that he pushed himself and there was a recurrence of his injury. He's out for the foreseeable future."
Meanwhile, Brown hopes those members of his squad out of contract at the end of the season - including Chris Maguire and Zander Diamond - will be looking for perform well in order to win deals, whether at Pittodrie or elsewhere.
"There are half a dozen players out of contract and quite clearly these guys have got to measure up," he said.
"The better they play, the better contract they're likely to get.
"Some of the guys who are out of contract will be offered contracts, but when you get to this time of the season, you want the best contract you can get.
"Quite often, players who are out of contract play very much better to try to secure not just a new contract but a very good deal.
"I'm hoping that's the case here because there are a number of guys in that category.
"Their attitude has been very good. I can't fault any player here in terms of attitude to try and secure a new contract because they're all up for it and the great thing about Aberdeen is they want to stay here."