Hearts boss 'gutted' after draw with Motherwell
Last updated on .From the section Football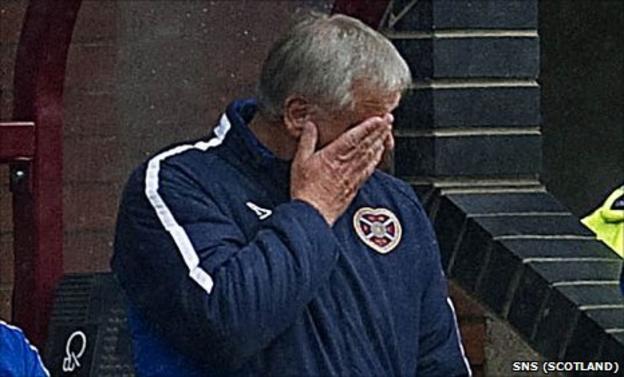 Hearts manager Jim Jefferies admitted his side's draw with Motherwell felt like a defeat.
Jefferies' men surrendered a three-goal advantage as Motherwell claimed a point at Tynecastle.
"Credit to them, they came back and got a draw," said Jefferies. "It was a fantastic game for the neutral but a sore one for us to take.
"We played so well and we were in a winning position and we're a bit gutted that we didn't hold on."
A penalty by Craig Thomson, a strike by Rudi Skacel and a header by Ryan Stevenson put Hearts in command, but John Sutton's double, which sandwiched a Tom Hateley goal, levelled the scores.
"At three-nil, we were playing really well," said Jefferies.
"Everything was fine and then we felt the referee gave a shocking decision against Stephen Elliott, just inside his own half. From the resulting free-kick, it cost us a goal.
"The second wasn't defended well. We should have enough bodies there to go and meet it and put it away and clear it.
"And the third one's worse because they've got a great cross in from their point of view, we know Sutton's very good at getting in front of people, he had more determination than we have defensively to go and meet the ball and we should've put it in Row Z.
"Gutted really because it feels like a defeat.
"There's a lot to be pleased about the performance. I thought we were really good up until when the second goal went in."
Captain for the day Andy Webster was withdrawn at half-time and Jefferies feels the defender's absence in the second half played a big part in Hearts' demise.
"Of course it was," said Jefferies. "He was outstanding while he was on in the first half.
"Late on in the first half, he tweaked his groin.
"It was a big miss and I think he was a major reason why we didn't win the game. His presence was badly needed at the heart of the defence."
The result, allied to Dundee United's win earlier in the day, means there is now a seven-point gap between the two sides, with Hearts third.
"It doesn't change much," said Jefferies. "A win would've made it hard for Dundee United, but it means we've still got to get that win and we'll have to go out next week and see what the results bring then.
"Because, if we win and they lose, it's alright and that's what we had to do anyway."
Meanwhile, Jefferies has played down reports of a move for Motherwell goal hero Sutton.
"I've been linked with so many players," added Jefferies. "We'll only tell you who we're after when we've got them signed."