Gary McAllister encouraged by Gerard Houllier progress
Last updated on .From the section Football
Stand-in Aston Villa boss Gary McAllister has revealed manager Gerard Houllier is showing "encouraging" signs of progress.
McAllister said after the 1-1 draw with Stoke: "I spoke to him before kick-off and his main concern was the players.
"All the signs are encouraging. He has got a bit of colour in his cheeks and he doesn't look like a guy who has had a tough couple of days."
Kenwyne Jones gave Stoke the lead at Villa Park but eDarren Bent scored his seventh goal in 12 games to earn Villa a 1-1 draw.
McAllister admitted keeping the players focused on football had not been easy.
"It's been a difficult week and the players showed how much they are behind the manager. There were still a couple of messages from the manager and there is no doubt they wanted to perform for him."
He added: "A few of the staff went to see Gerard this morning. I saw him last night and a couple of times yesterday.
"We will be guided by the specialists. We are being totally guided by them.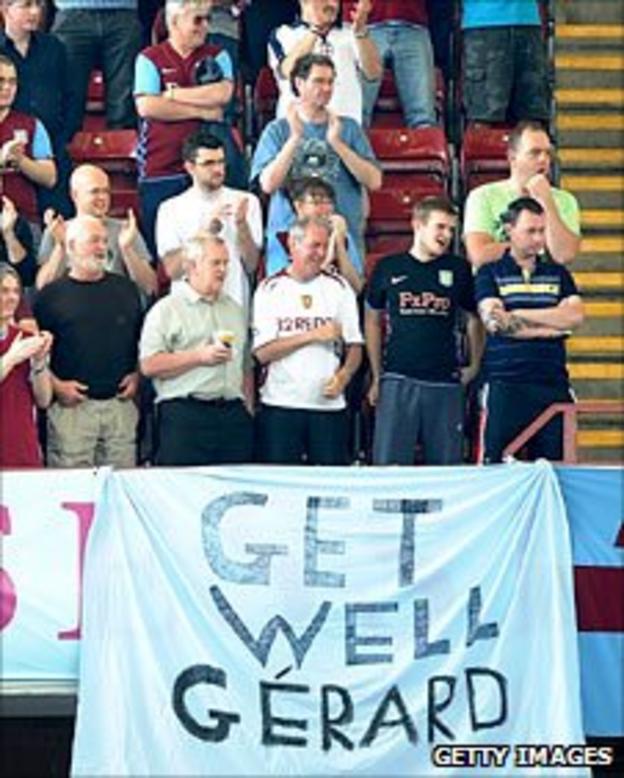 "It won't be Gerard or Aston Villa's decision when he comes back. There is no surgery this time. It will be rest and medicine."
McAllister insisted Villa are now looking upwards in the table after a run of eight points from four games moved them seven points clear off the relegation zone and effectively ended any fears of relegation.
He said: "We are on a good run at the moment so the place is buzzing. We need points to catch Bolton. Two or three weeks ago we would have been looking the other way.
"We want to keep the run going. Four games unbeaten. Since we lost to Sunderland here in January, we've not done bad."
Stoke's main concern is over the fitness of striker Ricardo Fuller, who was taken off on a stretcher with an Achilles injury soon after coming on as a substitute.
Manager Tony Pulis was uncertain if Fuller would be fit for the FA Cup final in three weeks.
"We are not sure how bad it is. He's going off to have a scan so we won't know that until Monday," Pulis said.
"It is disappointing because Ricardo is a game-changer from the bench. He can come on and do special things."
But Pulis was delighted with his side's display and insisted they would not be sidetracked by their Wembley date with Manchester City.
"There is a danger you think of Wembley before it comes along and then players take their foot off the pedal," he said.
"We must not do it. The Premier League is still our main priority. We still need points.
"Every point away is a good point. After the game at Wembley [semi-final win over Bolton] getting the players through the game is difficult. But they were smashing.
"It's difficult to get players' feet back on the ground. It's a great point but the players handled it very well. Until they scored we looked fine and were on the front foot.
"We played really well. The worst thing that happened was half-time and we looked really sluggish in the second half and it's not just physical, it's mental as well.
"We dropped off and looked a bit tired and leggy in the second half."