Brown to make subtle Aberdeen squad changes
Last updated on .From the section Football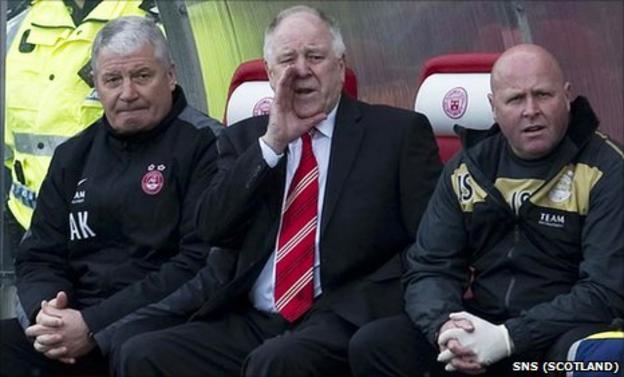 Aberdeen manager Craig Brown expects to make changes to his squad this summer but "not dramatically".
Speaking after the 1-1 draw with Hamilton, Brown said: "We haven't got a budget for that. Three out and three in at the moment.
"We'll reinforce the squad, hopefully we'll have a far better season.
"We'll do everything possible to ensure fans haven't to endure the ignomany of 9-0 defeats and 5-0 defeats at Celtic and at Hearts as we had this season."
As well as the possibility of bringing players in, Brown is also looking forward to getting some of his long-term injured players back.
"But we've got four players coming that (assistant) Archie Knox and I haven't seen play for Aberdeen," said Brown.
"Darren Mackie's been injured since we came, Fraser Fyvie's been injured since we came, Yoann Folly broke his leg just after we arrived and the lad Richard Foster is coming back from (his loan at) Rangers.
"That gives us four players that Archie and I haven't worked with and then the three who got injured while we were here, Rory McArdle, David McNamee and Paul Hartley, the captain - they're all international players.
"We're really struggled in terms of resources recently.
"We'll lose Nick Blackman, we'll lose Nikola Vujadinovic. They obviously will be going back to their own clubs.
"We have spaces to fill and hopefully we'll do that wisely."
A point at New Douglas Park kept the Dons 12 points clear of bottom club Hamilton, who have a significantly inferior goal difference with four games to player.
Chris Maguire missed a penalty for the visitors early in the second half and Hamilton capitalised by going ahead through Dougie Imrie only for Nick Blackman to fire an equaliser for Aberdeen.
"A point's okay I suppose, it keeps us from worrying about being dragged down," Brown said.
"I didn't want to be in a position where we were going to depend on other teams beating Hamilton for Aberdeen to stay safe because Aberdeen should never be in that kind of situation.
"I've pledged to the fans that next season I'm sure we won't be. I didn't think for a minute we were ever going to be in relegation trouble.
"It thought it was a very poor game and we were very disappointing.
"We should've had two goals at the start of the second half, we missed a penalty and then a great chance in front of goal after that, which Scott Vernon missed.
"We could've been two up but that would've flattered us.
"I feared the worst because Accies, when they got ahead, got their tails up and had something to hold on to. The crowd became more enthusiastic towards them.
"At the end of the day, we should've won the game. We had enough chances to win the game, more chances than Hamilton but we've got to fault ourselves and say that we're not playing incisive football at all."
Goalkeeper Jamie Langfield had to be replaced in the second half after sustaining a cut to the head in a collision with a team-mate that required stitches.
"It's just as well his wedding photograph has been taken, it's a nasty looking face he has," added Brown.
"He's a very brave guy. Doctor's been busy."