Rangers' Whyte Knight?
By David McDaid
BBC Scotland
Last updated on .From the section Football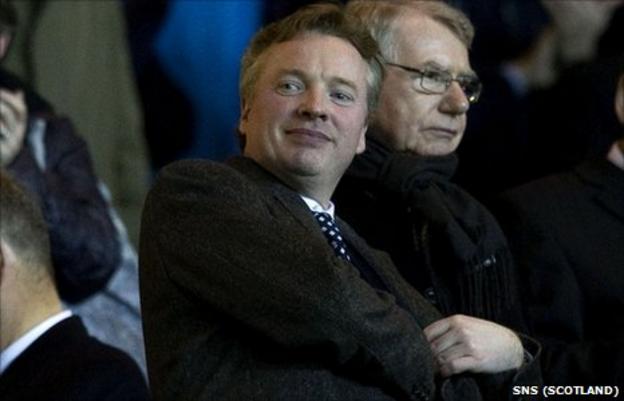 As far back as the 1990s, Craig Whyte was tipped to take on Sir David Murray's mantle.
As Scotland's youngest self-made millionaire, he was viewed as the next big tycoon to hit Scottish business since Murray and his steel empire.
He probably did not envisage himself succeeding Murray at the helm of Ibrox, where he once had his own executive box for entertaining business clients.
With the bulk of the £52.5m he has reportedly tabled to fund his Ibrox takeover coming from his own personal fortune, Whyte has clearly been successful.
His career in business took off at an early age, although it has had its wings clipped on a couple of occasions.
Growing up at home in Motherwell, Whyte watched his father build a profitable plant-hire company, while his mother ran her own baby-wear shop.
This engendered in him an interest in making money and it didn't take him long to do just that.
Even at school at Glasgow's private Kelvinside Academy, he paid more attention to dividends than long division.
As a 15-year-old, while his class-mates were revising for their O-Grades, Whyte was studying the financial pages to see how his shares were doing.
"I wasn't going to make much doing paper rounds," he said in May 2000. "So I phoned a stockbroker to open an account and luckily they didn't ask me how old I was.
"All I had was some pocket money and I just thought I wanted more."
By the time he left school two years later - the same year Sir David Murray bought Rangers - he had £20,000 more from investing weekend wage packets. Before his 30th birthday, he was worth more than £20m.
Then, in the mid-90s, the name Craig Whyte ranked alongside David Beckham and Robbie Williams on the Sunday Times rich list as one of Britain's youngest millionaires.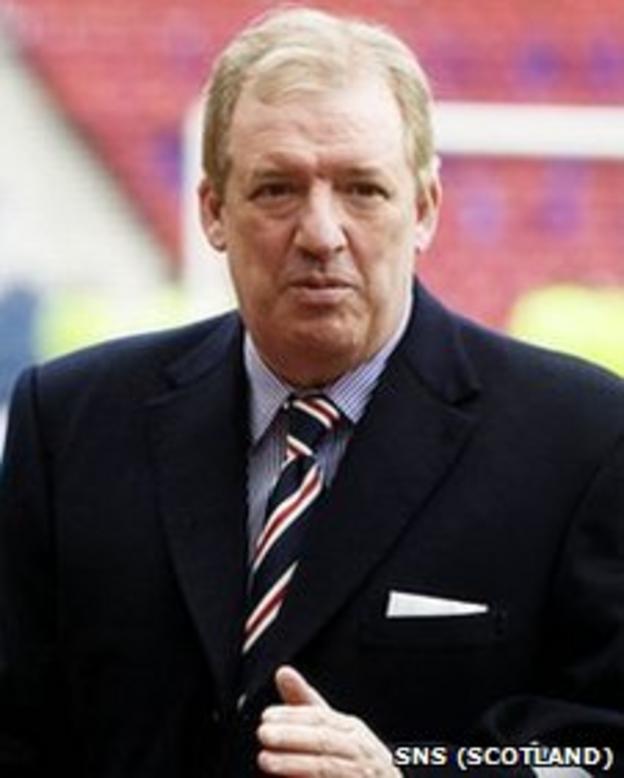 With his Mercedes convertible and yacht on Loch Lomond, he was also considered one of Scotland's most eligible bachelors.
But Whyte has tasted the bitter lows as well as the sweet highs.
His first solo venture following his father into the plant-hire world suffered in the recession of the early-90s and ended in liquidation with heavy debts.
"You might say it was a valuable experience," he said. "I would prefer it had not happened, but it has reduced the chances of it happening again."
But, still aged just 21, Whyte was undeterred. And, within weeks of losing one business, he had begun another.
Again, he turned to familiar ground in plant-hire to which he allied a retail security firm - and also a contract cleaning company.
Within a few years, he had eight companies under the umbrella of Vital Holdings - including interests in Vietnam, America, Spain and the Bahamas.
Vital grew to include more than 1000 employees with a turnover of more than £13m.
"I want to have major league personal wealth, which for me is over £100m," he said at the time. "It's just what you use to measure yourself against the Goldsmiths and the Bransons of this world."
However, again his businesses ran into trouble with debts of £600,000 and in 1997, amid claims of unpaid wages and tax bills, he left Scotland to live in Monaco.
Whyte insisted he did not owe anyone money - least of all the tax man - and that all wage claims by employees were dealt with satisfactorily.
Each time, though, Whyte has come back from disappointments, displaying the kind of determination he has needed throughout the long months of his protracted Ibrox takeover.
He has been single-minded about his desire to own the club, even when the Rangers board practically said they did not want him.
Whyte has since returned to Scotland from his tax haven in Monte Carlo to become the king of his very own castle - the historic Castle Grant in Speyside - which he bought in 2007 for around £750,000 and has since undertaken a multi-million pound refurbishment to restore it to its former grandeur.
His business interests now focus on the venture capitalist market where he has stepped in to pick up struggling companies, make them successful and sell them on for a profit. He is also registered as a director or secretary in several companies.
Rangers then, with debts of around £22m, is not an altogether-alien venture for him.
Although, if he was not aware already, in the football business, positive financial figures must be matched by positive results on the park.