Pep Guardiola riled by Jose Mourinho jibes
Last updated on .From the section Football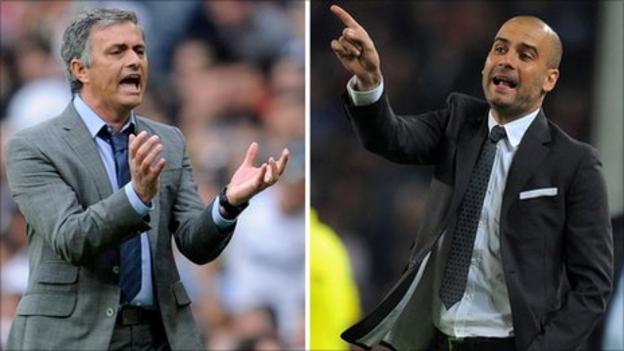 Barcelona coach Pep Guardiola has lost his cool with Real Madrid counterpart Jose Mourinho ahead of their Champions League semi-final.
Before the first leg, Mourinho mischievously said Guardiola was a new breed of coach who criticised correct decisions by referees.
In an unusual outburst for the normally laid-back Spaniard, he said: "In the press room he is the [expletive] chief.
"He is the [expletive] man. I try not to play the game off the pitch."
He added: "He's much better than me at it. I represent an institution that believes this is not the best way to do things."
Guardiola's outburst comes with Barcelona under pressure to prove they still have the edge over their fierce rivals from the Spanish capital.
Mourinho was humiliated in November when Barca thrashed his side 5-0 at the Nou Camp, but the return was drawn 1-1 on 16 April before Real beat Barca 1-0 in the Copa del Rey final four days later.
Now the sides are meeting in the Champions League for the first time since the 2002 semi-final, when Real defeated Barcelona and went on to win the trophy.
The mind games started when Guardiola suggested Mourinho would be "super happy" if his fellow Portuguese Pedro Proenca were chosen as the referee for the first leg at the Bernabeu.
In fact, experienced German official Wolfgang Stark was given the job but that did not stop Mourinho pouncing on his counterpart's words.
"Besides the naming of the referee and the pressure that they exerted that it was not Proenca, the most important thing is that we are in new cycle," he said.
"Up to now we have had two types of coaches. A very small group of coaches who never speak to the referees.
"After that, there is a bigger group, of whom I am one, who criticise the referees when they make huge errors. But it is also a group who are happy to highlight the good work of the referee.
"And now, with the declaration of Pep the other day, we are entering a new era with a third group, which for the moment includes only him, who criticise the correct decision of the referee.
"I am not asking the referee to help my team. If the referee is good everyone will be happy - except Guardiola. He wants them to get it wrong."
"This is something I have never seen in the world of football."
Mourinho was referring to a goal by Barcelona's Pedro Rodriguez which was disallowed for offside in the Spanish Cup final - a decision criticised by Guardiola but which video replays showed was a correct call by the referee.
The pair previously spent four years together at Barcelona - Guardiola as a player and Mourinho as an assistant coach in the 1990s.
In response to the Portuguese's latest gibes, Guardiola added: "Because Mr Mourinho used my name directly I will do the same.
"Away from the pitch he has had the upper hand so I award him his own personal Champions League for that.
"We worked together for four years. He knows me and I know him and that's what I will remember and focus on."
In reference to the Pedro offside call, he added: "It leaves a bad taste when someone you have worked with believes what he reads rather than you.
"I said the referee had been very attentive. I said it was right. I pointed out simply that the result can be down to small things, that's all. It was not a complaint.
"If you think I complain about referees then great, there is nothing I can do."
Aside from the pre-match mind games, Mourinho believes Real Madrid's recent success against Barcelona will count for little in the Champions League tie, dismissing Guardiola's suggestion that his team are favourites.
"I don't have a magic potion. We're not favourites, there exists no favourite," said Mourinho.
"It's between two teams that know each other, two teams with tradition, two teams who have won big games before."
Real, who have won European football's most sought-after trophy a record nine times, are playing in their first Champions League semi-final since 2003, while rivals Barcelona are in the last four for the fourth successive year.
Last year, the Catalan side were beaten over two legs by a Mourinho-coached Inter Milan, who went on to win the trophy.
And Mourinho is aiming to become the first man to guide three different teams to the title, having won the competition for the first time with Porto in 2004.
However, he is refusing to get carried away with thoughts of reaching the final at Wembley.
"I'm the same coach, the exact same, that lost 5-0 against Barcelona six months ago," he said. "Every game has its own story."
Real returned to the Mestalla, the scene of their Copa del Rey triumph, on Saturday to take on Valencia in La Liga and, despite fielding a weakened side, routed the third-placed side 6-3.
Meanwhile, Barca were less convincing in beating relegation-threatened Osasuna 2-0 at the Nou Camp.
Guardiola conceded: "We are not going [to Madrid] in the best condition but in mental terms we will travel to the Bernabeu with a lot of enthusiasm.
"We accept that Madrid are favourites, they have earned that in the last few weeks, and we'll try to turn that around."
Barcelona are looking frail at the back with left-backs Eric Abidal, Maxwell and Adriano all definitely missing, although influential skipper Carles Puyol and centre-back Gabriel Milito have recovered from injuries in time to play.