Stoke's Etherington in race to make FA Cup final
Last updated on .From the section Football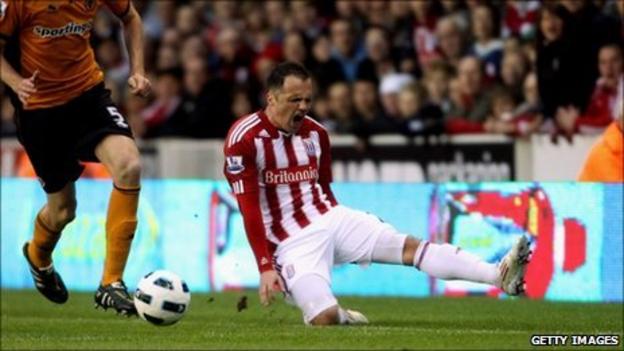 Stoke winger Matthew Etherington faces a race against time to be fit for the FA Cup final on 14 May after a scan revealed a hamstring tear.
The 29-year-old was carried off in agony after he was injured 30 minutes into Tuesday's 3-0 win over Wolves.
Stoke play Manchester City in the Wembley final and, on Friday, manager Tony Pulis did not rule him out.
"Whether he's going to be fit, nobody can say," said Pulis. "We'll know how much chance he's got in a week's time."
He added: "He'll now be treated, and be looked after as best as we possibly can. We'll have a very good view of it in seven days."
Assistant boss Dave Kemp said: "The club will do everything they can to get him fit."
Etherington hopes to appear in his second FA Cup final, having played for West Ham in their heartbreaking defeat by Liverpool in 2006.
The Hammers were on the way to a 3-2 victory before Steven Gerrard's last-minute equaliser took the game into extra time.
Liverpool eventually won on penalties.
"It's not good news, but it all depends on how he treats it and if he can recover," Kemp told BBC Radio Stoke after Etherington's scan on Wednesday.
"He is disappointed, but as long as there is hope, there is a chance."
Etherington has been a key member of Stoke's FA Cup run and scored in the 5-0 semi-final win over Bolton to help send the Potters into the final.
After Tuesday's game Pulis told BBC Radio 5 live just how vital Etherington is to his side.
"Everyone has their fingers crossed," he said. "We will do our best to try to get him on the pitch because he is important to us.
"It's a game that we'll desperately want him to play, and it's a game that Matt will desperately want to play. We will go to every measure we possibly can as a football club to give him the best opportunity."
Forward Ricardo Fuller will also miss the final after undergoing surgery on Tuesday for an Achilles injury suffered in Saturday's 1-1 draw at Aston Villa that will rule him out for four to six months.
"It's a bad blow for us," added Pulis. "If you look at the squad and the size of the club, we need our top players to be fit for us to be at our best.
"We are not Manchester City, we have not got multi-millionaires standing around waiting for their chances.
"This is a bread and butter football club, the players work very hard and we need everyone fit."
Stoke midfielder Rory Delap added: "It didn't look good after the game. We are all devastated if it is what everyone thinks it is.
"You never know with the scan but we are all thinking of him and we know how devastated he is.
"He's been a big part of this club and it will be devastating if Ricardo misses the final."