Man Utd's Rooney and Carrick hailed by Graham Taylor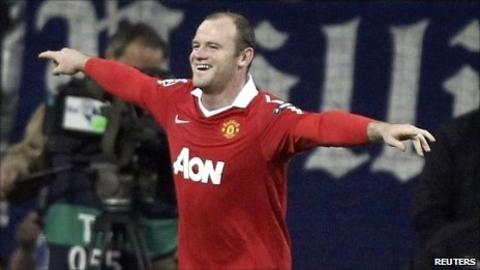 You do not often see really one-sided games at any level of football but to see one in the semi-final of the Champions League, where Manchester United strolled past Schalke 2-0, was a surprise.
As soon as the game began, you could see the difference between the two sides. United are top of the Premier League and Schalke are 10th in the Bundesliga - and the Germans looked like a mid-table team.
It will be a miracle if Schalke go to Old Trafford in the second leg and get anything. But give credit to United, they still had a job to do - and they did it.
The accusation against United at times this season has been that they have not played with the flamboyance of old. But they are more organised and committed now and never ever give up.
With that tighter set-up, they are more equipped to look after the likes of Barcelona, who they may well meet in the final, although Barca's tie against Real Madrid is not a forgone conclusion by any means.
I don't think United manager Sir Alex Ferguson has cut back on his side's creativity completel but if you compare the current side with the teams of the past, then, yes, he has sacrificed an amount of flair for hard work.
Against Schalke, the first goal was going to be important after United had missed so many chances early on. When it came, we saw exactly what Wayne Rooney is capable of. His reverse pass to Ryan Giggs was excellent.
To get the pace and accuracy just right, as he did, made it so simple for Giggs to score. We know what Rooney is about - it's not just the goals, it's the assists, too.
The problem with Rooney sometimes is that he wants to be everywhere the ball is. Great players often think they need to be near the ball all the time but I would keep telling him not to come back into his own half.
United don't need him there. He is better picking the ball up in a more advanced position and making things happen.
In midfield, Michael Carrick had another good game and underlined his importance to United.
He suffered a loss of form earlier in the season and at one stage there was a belief that Sir Alex would move him on.
Carrick lacked confidence and belief but he has those back now. He is selected for all of the big games and gets the midfield organised.
Carrick is what I call a 'get it and give it man', or a continuity player. If you are in trouble, he will have the ball off you and pass it on. You need players like that in a team, they make things tick.
If he could add eight to 10 goals per season to his game, people would talk differently about him.
It was a fine result for United, who just keep on winning. They can grind out results and never know when they are beaten. That is a difficult mentality for any opposition side to overcome.
Graham Taylor was talking on BBC Radio 5 live.