The Glasgow School of football management
Last updated on .From the section Football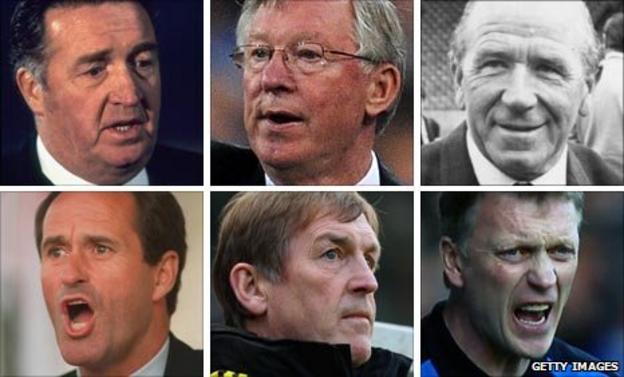 When it comes to churning out great football managers, one city in the United Kingdom stands head and shoulders above the rest.
From Jock Stein to Sir Alex Ferguson, via Sir Matt Busby and George Graham, Glasgow and its surrounding suburbs has the richest of managerial traditions.
And the supply line shows no sign of drying up, with six Glaswegians currently in charge of English Premier League clubs (Ferguson - Man Utd, Kenny Dalglish - Liverpool, David Moyes - Everton, Alex McLeish - Birmingham, Steve Kean - Blackburn, Owen Coyle - Bolton), more than all the English managers in the top-flight combined.
So what is it about an upbringing in the Scottish city that instils such leadership qualities? And what can other managers learn from Glasgow's latest golden generation?
Moyes, who was born and raised in Glasgow before starting his playing career at Celtic, believes the phenomenon is down to a desire to escape from the tough realities of life in the city's working-class suburbs.
"You had to look after yourself in Glasgow," reflects Moyes in "The Glasgow School", a BBC Radio 5 live Sport special to be aired at 2000 BST on Thursday.
"That didn't mean you had to be the best fighter, it just meant you had to look after yourself, whether that meant you had the sharpest tongue, or you were a fast runner and could run away from people, or you could handle yourself.
"The environment in Glasgow made me want to get involved in football. At that time there was nothing else. It was football or nothing. You played in the park on a Sunday, and with your pals at night in the street. I didn't really know anything else."
While Moyes puts a degree of the Glaswegians' success down to the gruff accent that naturally inspires authority, McLeish says working-class kids from the city - often the offspring of miners or shipbuilders - are motivated by a desire to prove themselves.
"It's in the DNA," he says. "There was a definite determination to succeed. My dad was a sore loser and that probably rubbed off on me as well."
McLeish managed in Scotland for 13 years before taking charge of the Blues in 2007.
"Coming to England I was determined to prove myself and there was a feeling that I cannot be seen to fail down here," he adds. "There is a relentless drive to show you can cut it against the big guns and the elite of the English league."
McLeish, who played under Ferguson at Aberdeen, believes each new generation of Glaswegian managers has taken inspiration and advice from predecessors.
"Having followed Sir Alex's career you realise that Jock Stein was a big mentor to him, just as Sir Alex has been to me and many of his other proteges," reflects the former Rangers boss.
"Why would I not pick up the phone to Sir Alex?"
With Coyle, Kean and Paul Lambert (Norwich) at the forefront of another generation of managers from the city, the Glasgow School looks certain to remain peerless for years to come.
LISTEN TO "THE GLASGOW SCHOOL" ON BBC RADIO 5 LIVE FROM 2000 TO 2200 BST ON THURSDAY