Barcelona's Lionel Messi joins the greats
By Pat Nevin
Former Everton and Scotland winger & BBC Radio 5 live pundit in Madrid
Last updated on .From the section Football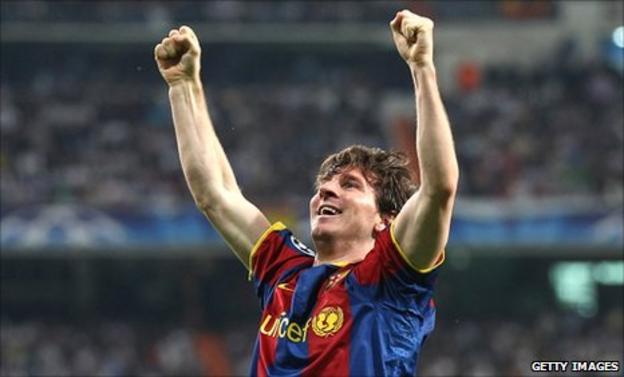 Barcelona's Lionel Messi was just like Diego Maradona at his very best in the 2-0 win at the Bernabeu.
There just isn't any argument anymore. I think Pele, Maradona and Messi are the three best footballers the world has seen. Even considering the talents of players like Zidane, those three are a little bit above the rest.
Messi has cut through the entire Real Madrid defence in the Champions League semi-final first leg - one of the most important games of the season - for his second goal.
The Argentine sees things other players just don't, even the likes of team-mates Xavi and Andres Iniesta.
Messi was kept quiet in the first half but was absolutely sensational as soon as the space opened up.
That space developed for two reasons.
Firstly, because of Pepe's sending-off, which I thought was harsh as he got a little bit of the ball in his challenge with Dani Alves.
Secondly, it may be Real Madrid against Barcelona but these guys are only human. When time goes on and players get tired, space appears. Fantastic players, like those in the Barcelona attack, can be devastating when that happens.
Once the first goal went in on 76 minutes and with Madrid a man down, I think Barcelona smelt blood. They sensed they could all but finish the tie after one match.
It was a dangerous game for Mourinho. I think he chose to play for a 0-0 draw because he knew that if Barcelona scored an away goal his side would struggle to get through.
Mourinho's tactics are not always the most sophisticated - and I am not sure his teams know how to go and attack teams, especially Barcelona.
If we look back to his most effective days when in charge at Chelsea, he played a battering ram up front in Didier Drogba and two quick men down the sides in Arjen Robben and Damien Duff.
Right now, I cannot see any way back for Real. But if there is one manager who can get it back, it is Mourinho.
However, I am sure some of those Real fans who left early will be discussing his future and it will be interesting to see who will be managing at the Bernabeu next season.
Real will put up with negative tactics if they deliver success but they won't if they don't.
Pat Nevin was talking on BBC Radio 5 live.