We are a top-10 side, says Fulham boss Mark Hughes
Last updated on .From the section Football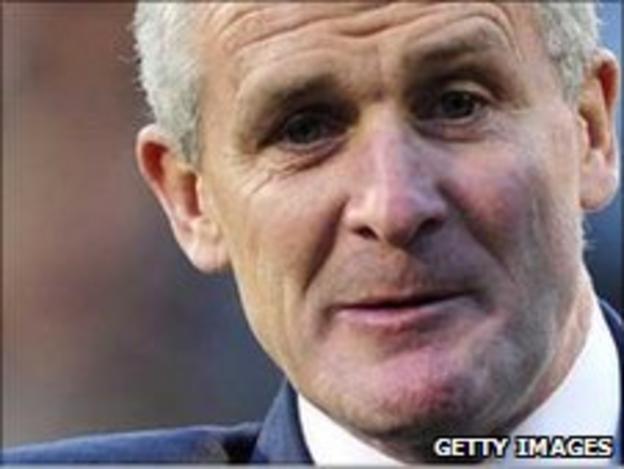 Fulham manager Mark Hughes was delighted with the 3-0 win against Bolton that puts his side ninth in the Premier League table.
Clint Dempsey scored twice and Brede Hangeland got the other to virtually secure Fulham's top-flight status.
Hughes said: "I thought we were excellent. We are in the top 10 now.
"I think it's only the second time this year that we've been in the top 10 and now it is up to us to make sure we stay there until the end of the season."
The win meant Fulham moved up the table from 14th place and puts them eight points clear of the relegation zone with four matches left to play.
"You have had heard me time and time again say that I felt we are a top 10 side," added Hughes. "I think we proved that again tonight.
"We have got good quality, we play the right way and I think we deserve to be in the top 10.
"At the weekend against Wolves, I thought we were excellent in terms of getting the ball down and playing, passing and probing.
"Tonight we obviously had to face up the physical questions that Bolton ask of you. You know you are going to have to deal with balls into your box and Kevin Davies, who is very adept at flicking things on.
"After an initial four of five minutes at the start of the first half, I think we dealt with it really, really well.
"I thought some of the play we produced was excellent and thankfully tonight we added goals to the quality of our play. It is very satisfying for everybody."
The victory also leaves Fulham only four points behind eighth-placed Bolton, whose manager Owen Coyle was disappointed by his side's performance.
"Obviously I am disappointed to lose any game," he said. "We came looking to get the three points.
"I thought we started really well and had a terrific chance in the first minute to take the lead.
"We probably should have scored but we never did and then Fulham came into the game because they have terrific individual players and have a very good team.
"My disappointment is the goals we have lost. They are soft from our point of view and I think all three goals came indirectly from set plays.
"I can't argue with the result, I think Fulham are fully deserving of the three points. But I know we are certainly better than what we showed tonight."