Dundee chief executive eyes positive future
Last updated on .From the section Football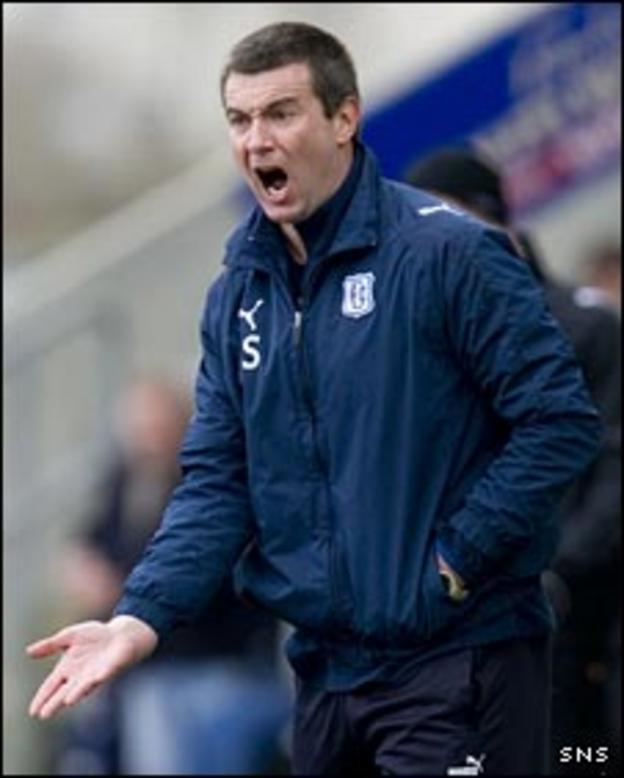 Dundee are confident of emerging from administration with a sound financial base, a squad that can chase promotion and with Barry Smith still as manager.
And Dundee chief executive Harry MacLean also stressed that they will remain a full-time club.
"The main thing now is to get out of administration and get back to normal," he told BBC Scotland.
"We're near the end of the season and, back in October, we were never sure of reaching this point."
Dundee were handed a 25-point reduction by the Scottish Football League in November after their second lurch into administration in seven years.
But they have since gathered more points than leaders Dunfermline Athletic and Saturday's 1-0 win away to relegation rivals Ross County ensured the Dark Blues' survival in Division One.
MacLean maintains that, despite the SFL's claims to the contrary, the punishment was designed to force Dundee into Division Two.
"What we have had to do to avoid relegation is to go on the longest run this club has ever had in the league undefeated, beat the league record for undefeated games in the First Division, we've had to break the record for clean sheets in a row and win the league with 11 or 12 players as a core," he said.
"That puts into some perspective the enormity of their achievement.
"If you accept it is an enormous achievement to avoid relegation then you would have to take from that that the 25 points was designed to relegate us, but we've survived it and it is time to move on."
That next move is to come out of administration.
"The administrator said a few times his target is the end of the season and I don't think much has changed," said MacLean.
"We were hoping to have an announcement this week before the home game, but unfortunately a bit of last-minute paperwork and bureaucracy has stalled that.
"So it may go on for another week or two yet, but I am sure the administrator will be doing his best to get that tied up."
A new internal structure will then take control of the club and attempt to avoid more financial woes.
"The new proposed board has been meeting together for a couple of months working pretty well together and ironed out some of the differences that might have been there at the beginning for the good of the club," said MacLean.
"I can't go into any detail about who they are, but I can say there will be seven people on the board and it is a broad mix of representatives of all the groups involved.
"We have attracted investment from people like the supporters society, DFCSS, and the Dark Blues Business Trust, but we've also got some individual investors and people willing to help the club.
"Now none of these are what you would call sugar daddies if you like. However, they are all well-minded people who want to help Dundee Football Club.
"We've a budget in place now that will see us go through next season and would be very confident of completing the season and competing well in the First Division.
"Previously, we had thought it may be a real struggle, but we have got the finances in place now not to go into debt.
"These people would be stakeholders in the club and we can try to put together a competitive team."
MacLean has previously stated the club's desire to secure Smith and the present players on new contracts as soon as the club moves out of administration.
"We want to see each and every one of them playing at Dens Park next year," added the chief executive.
"That may not be possible. People are coming to the end of their contracts and they will have other offers.
"We won't be able to push the boat out to keep them, but certainly they will be made offers that are pretty reasonable compared to what they are on just now.
"I think the manager's looking in the region of 17 first-teamers and possibly three younger players to support that."