Cambridge offer Jez George manager role for next season
Last updated on .From the section Football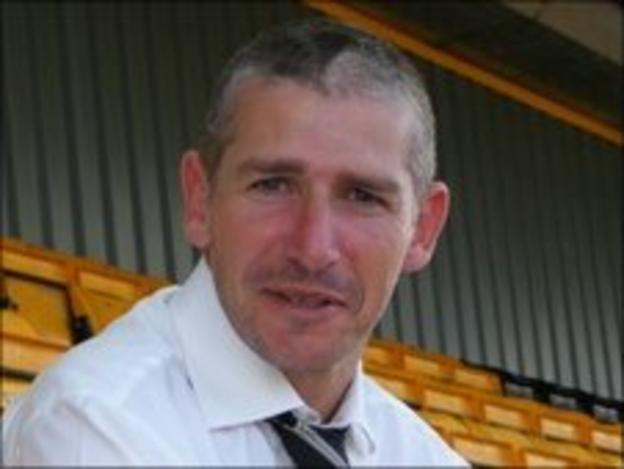 Cambridge United chairman Paul Barry has confirmed they have asked caretaker manager Jez George to continue in the role next season.
George, who is also a director on the U's board, took over as manager after Martin Ling was sacked in February.
The announcement comes a day after Barry said no decision would be made until after the end of the season.
Barry told the club website: "Jez has done an excellent job in hugely difficult circumstances."
He added: "He has the qualities and knowledge necessary to unravel the very difficult situation which currently exists within the club."
George has previously insisted he would not continue as manager beyond this season, and would return to his job leading the youth team.
Barry said: "Jez has always been clear with the board of his intention once the season had finished to return to his previous role.
"However, he has agreed to at least reconsider this while the other members of the board discuss alternative options.
"Further discussions will take place with Jez following the final game on Saturday."
The U's are 17th in the Blue Square Bet Premier and only secured safety with a 0-0 draw at York on Monday.
"A young squad has been galvanized to gain these points under huge pressure through his leadership," said Barry.
The U's chairman admitted the manager next season would be working with a smaller budget, but said George was aware of the financial constraints.
"He is acutely aware of the finances available for the squad, the contracts currently in place and the necessity to significantly reduce our football budget moving forward," said Barry.
"We had increased the football spend this year by £100,000 with the addition of a first team coach and additional playing budget.
"The budget for this upcoming season will at least 25% lower and the second lowest we've had since the club has been in Blue Square Bet Premier in order for the club to break even."