Thierry Henry set to face Arsenal in Emirates Cup
Last updated on .From the section Football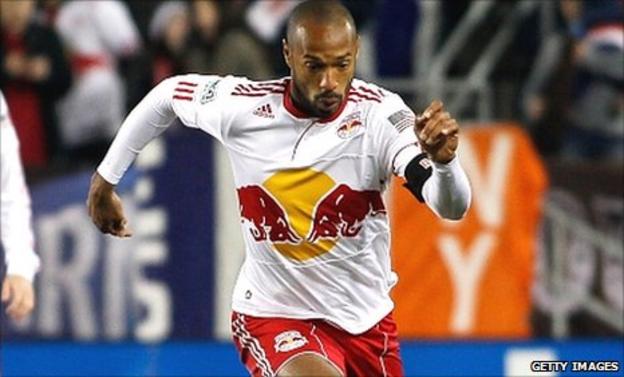 Thierry Henry could face Arsenal at the Emirates Stadium after the New York Red Bulls were confirmed in the line-up for the Emirates Cup on 30-31 July.
The 33-year-old joined the Red Bulls in 2010 after leaving Arsenal for Barcelona in 2007.
Henry spent eight years with Arsenal from 1999-2007, scoring a club-record 226 goals in 370 games and captaining the Gunners in his final two seasons.
Paris St Germain and Boca Juniors will also play in the pre-season tournament.
"I'm sure all Arsenal fans will be looking forward to welcoming back Thierry Henry - a true Arsenal legend," said Arsenal chief executive Ivan Gazidis.
"New York Red Bulls, Boca Juniors and Paris Saint-Germain are three clubs with great players and huge followings.
"They are sure to make Emirates Cup 2011 a hugely exciting weekend of football."
Henry's only appearance against Arsenal since leaving the club came as a second-half substitute in Barcelona's 2-2 draw at the Emirates Stadium in the 2009-10 Champions League quarter-finals.
But the Frenchman has returned on other occasions as a spectator and trained with Arsene Wenger's squad in January during the MLS off-season.
Henry played for Monaco and Juventus before making a £10.5m move to Arsenal, where he was part of the team who won two Premier League titles, three FA Cups and reached the Champions League final in 2006.
He helped Barcelona to two Spanish titles and the 2009 Champions League and was part of the victorious France side at the 1998 World Cup and the 2000 European Championship.
The Emirates Cup has been staged every year since 2007, with Arsenal winning the inaugural event and repeating the feat in 2009 and 2010, and Hamburg triumphing in 2008.
It is a four-team competition in which each team play two matches, one on Saturday and another on Sunday.