Kris Commons surprised at being a sub for Old Firm game
By Liam McLeod
BBC Scotland
Last updated on .From the section Football
Celtic winger Kris Commons admits he was surprised to be left out of Neil Lennon's starting line-up for the league game at Ibrox on Sunday.
Despite an impressive opening to his Celtic Park career, Commons was benched for the 0-0 draw against Rangers.
"I was surprised, yeah, but it was because of the sort of game it was going to be from the start," he said.
"It was a little bit hectic with not a lot of football being played at times."
The Scotland international took his place among the substitutes despite scoring twice in only four Old Firm appearances since arriving in January.
But he says he accepted Lennon's decision knowing he would be given the chance to make an impact from the bench in the final third of the match.
"I think if we'd scored - and we almost did - it would have been perfect tactics," he added.
"But for us it was a case of us not losing the match.
"He's the manager and he gets paid to make those calls and obviously Stokesy [Anothony Stokes] got put on the bench as well.
"The manager's making these calls to get us the points required to win the championship, so, for me, it's all about the team and not myself."
With a game in hand away to Inverness, Commons and his team-mates are in the driving seat going into the Scottish Premier League title run-in despite sitting one point behind Rangers with a possible gap of four to face before they next play.
"We're just concentrating on our game," he said. "We're not really paying too much attention to what is happening down the road.
"It's in our hands now and that's how we wanted it after the Rangers game, so for us it's ideal and it's ours to lose or win."
They begin the home straight with a Sunday visit from in-form Dundee United before facing Inverness next Wednesday.
It will be a United team whose last visit to Glasgow ended in a victory over Rangers, where they came from behind to win 3-2 at Ibrox.
Peter Houston argued that last weekend's 4-2 win over Kilmarnock was some of the best football his team have played since he took over at Tannadice.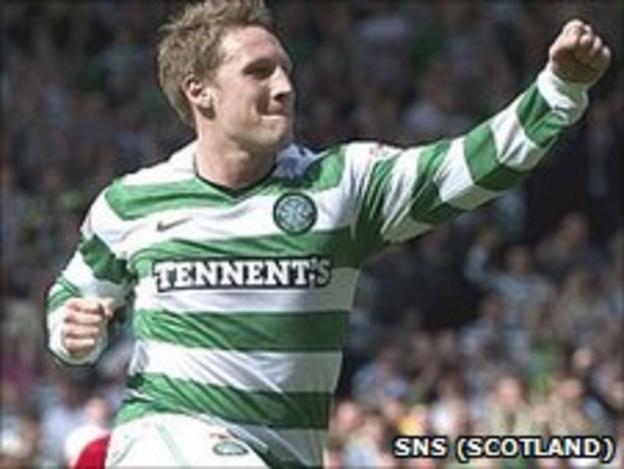 Commons is on his guard.
Asked if he thought the game against United could be Celtic's toughest remaining fixture, he said: "Possibly, but I think, looking at the fixtures, they're all going to be tough as everyone wants to beat us.
"We're trying to win the league so there's the added pressure of needing to win rather than just wanting to win.
"We're in a good state of mind at the moment. We're playing well and training's been fantastic.
"We've shown that we've got the bottle to go to places like Dundee United and Kilmarnock and win comfortably."
The 27-year-old was also quick to defend team-mate Georgios Samaras who saw a late penalty saved by Allan McGregor on Sunday.
"He was full of confidence to pick the ball up and take the penalty. He'd been full of confidence from the last time when he scored twice there," he said.
"Knowing him as I do, he'll be itching to take the next penalty. He's going to play a massive part and is the kind of player who'll score the sort of goals that'll win you championships."