Swansea City boss Rodgers queries referee appointment
Last updated on .From the section Football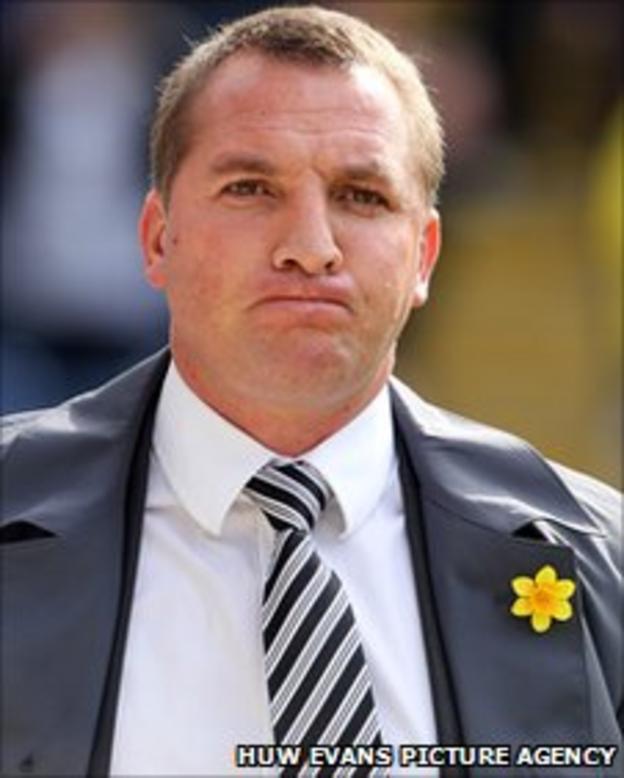 Swansea City boss Brendan Rodgers has questioned referee Michael Oliver's appointment for their Championship clash at play-off chasing Millwall.
The 26-year-old is the youngest to referee a Premier League game but will step down a division on Saturday.
Fulham boss Mark Hughes was critical of Oliver's performance after their draw at Wolverhampton Wanderers on Saturday.
Rodgers believes Oliver will become a "good referee" but is worried the Millwall game could be a big "test."
"I hope the referee is able to deal with the moment," said Rodgers.
"Obviously it's going to be one that he needs to be ready for,"
Oliver will officiate in the Championship just a week after sending Hughes off during their 1-1 draw against Wolves.
"It might even be more of a test than what it would be for a Premier League game," added Rodgers.
"It's a big game for him [with] two teams that are right up there.
"I hope he hasn't been put into this as a demotion and thinking it's a lesser level game. This is a big game still.
"I think he's going to end up being a very good referee. There are a lot of referees coming through now and they have to be given a chance.
"You don't get to that level as a ref without being very good. The pressure the referees are under is incredible."
The Football League defended their appointment in a statement.
"No officials are relegated from the Premier League," it read.
"There are a number of Select Group officials that referee in the Football League every week.
"Michael was promoted to the Select Group because he was the outstanding official in the National Group."
Swansea secured their place in the Championship play-offs with a 4-1 win over Ipswich Town at the Liberty Stadium on Easter Monday.
Rodgers, however, is keen his side finish the regular season on a high note.
"We won't be taking the game lightly because we've had a monumental achievement getting into the play-offs with two games to go," added Rodgers.
"We won't be taking our foot off the pedal."
"The only pressure we feel is the one on ourselves. There's obviously going to be a terrific atmosphere there. They need to win the game, their last home game of the season.
"But it's also a massive game for us. We want to do well. We want to pick up the three points."
Swansea will be reunited with former manager Kenny Jackett, who was in charge of the Swans between 2004 and 2007.
The former Wales defender guided the Welsh club to League Two promotion in his first season in charge before losing the League One play-off final to Barnsley in 2006.
Seventh-placed Millwall are chasing victory as Jackett's men hope to edge sixth-placed Nottingham Forest out of the final play-off place.
"I think he's a fantastic manager," said Rodgers.
"People maybe only look at the last couple of managers here. But the cycle began with Kenny.
"I have a big respect for every manager who has managed this club but Kenny sometimes gets lost within that.
"I always think history judges you as a manager and if you look at Kenny having now been away for a few years he obviously has done a good job at Swansea.
"[He's] left and gone to Millwall and done an excellent job there also."