Caretaker boss Kenny Shiels plans for Kilmarnock future
Last updated on .From the section Football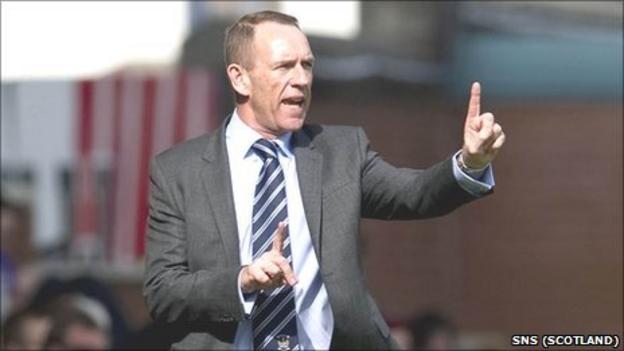 Caretaker manager Kenny Shiels is making plans to rebuild the Kilmarnock squad even though he does not know if he will be in charge next season.
Killie have drawn twice and lost twice in the Scottish Premier League since Mixu Paatelainen left to lead Finland.
He said: "I'm preparing for next season in anticipation of getting the job. That's not being arrogant, that's being logical in doing my work for the club.
"I have got big, big plans for the club next season."
The former Coleraine manager, who joined Killie last summer from his role as Tranmere's head of youth, is working to persuade the current players at Rugby Park to extend their contracts while also looking for potential replacements.
"I'm working to improve the team," said Shiels.
"It's frightening the amount of contacts I have, having worked in England and Europe and now in Scotland.
"We have a trial match next week and quite a few players are coming in for that. I'm going to watch a game in Europe on Sunday.
"I have already spoken to quite a few players who are considering us. They want to come to Kilmarnock - really good players, by the way.
"Hopefully if I can get the job then I start to activate that."
Shiels, who has also managed Ballymena, Larne and Carrick Rangers, reckons he will discover at the end of the season whether he will get the nod from chairman Michael Johnston to take the job on permanently.
His case has not been helped, though, by the loss of four goals in each of Kilmarnock's last two games, to Celtic and Dundee United.
In addition, he must do without injured defenders Ryan O'Leary and Frazer Wright for the remainder of the campaign.
Shiels is keen to play down the significance of the club's managerial position being undecided when it comes to agreeing players' contracts.
"Other managers are in the same boat as me in terms of players re-signing," he said.
"The only difference is we haven't got a manager, we have a caretaker manager. That poses a few problems but none that can't be overcome.
"I'm getting positive feedback from the players. They want me here and I want to be here.
"I have spoken to all of the players who are coming out of contract and I'm very keen to get them re-signed."