Chick Young's view

By Chick Young
BBC Scotland football pundit
Last updated on .From the section Football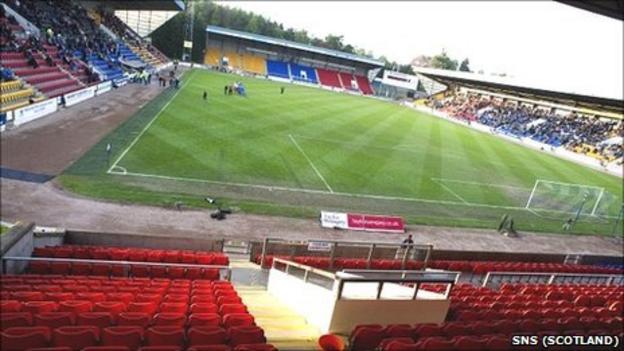 The chances of a top-10 Scottish Premier League?
They're in worse shape than me since I decided I was allergic to gyms.
You can polish up the hearse and doff your caps in the direction of the now deceased re-organisation plan. It's an ex-idea.
Despite Hamilton Accies - in death throes of their own - willing to take a bullet with chairman Ronnie MacDonald screaming that 10 is tops, others take a different perspective.
Among them are Michael Johnston at Kilmarnock, Stephen Thompson of Dundee United and George Fraser of Inverness Caledonian Thistle who, given the 11-1 voting structure, even without allies can scupper the whole wheeze.
And while we're at it, what kind of voting structure requires a 11-1 mandate? Those opposed to the proposed introduction of an AV system in politics should try that for size.
So, what now, my friends? Flick the page and you won't find a plan B, I suspect.
Me? I think I've evolved into a sweet 16 man. A straight 30 games, 15 home and 15 away. What could be simpler?
Except certain chairmen - Stewart Gilmour of St Mirren among them - tell me it will never work. It's the budget, you see. It would be weaker than a whip-round on the eve of pay day.
I suppose he has a point. Just 15 home games a year - with stadia being used less than once every three weeks on average - is an arrangement likely to rust up turnstiles.
But if you are as old as me - and fewer and fewer are - you will recall the days of the old 18-team First Division when just after Christmas there emerged a kind of Bermuda Triangle in mid-table where teams were swallowed up in a sea of apathy.
They had no chance of the title and no fear of relegation. Fixtures came and went and no-one's pulse accelerated a mili-second. Honestly, I've had more fun weeding.
So here we are, marooned on an ocean of intransigence, far from the shore of a secure future where our game can breathe and we can live happily ever after.
The Old Firm muscle hasn't worked this time.
Don't be fooled by their silence on the matter - it was Celtic and Rangers driving this on like demented jockeys thundering along the last furlong at Hamilton Park.
Or hares against the tortoises. But this time the slow guys came out their shells.
I could see the plus points, but I was never fully convinced that 10 was the way ahead of the game in his country - with or without SPL 2 - and so I will hardly weep for its passing.
In fact, I suspect the majority of supporters in this land will be dancing on its grave.
But what now for Scottish football?
Where is the magic formula that will shape its future and take it hand in hand towards the promised land of stability and financial security where the farcical split and its certain imbalance can no longer be shaped into a conspiracy theory?
It's a numbers racket that doesn't stack up, from 10 to 18.
We need football's bingo caller, a man of vision who can find a winning formula that excites and entertains.
Otherwise the crowds will continue to dwindle.
And it'll be eyes down…for an empty house.