Real Madrid's Jose Mourinho stands by Barcelona views
Last updated on .From the section Football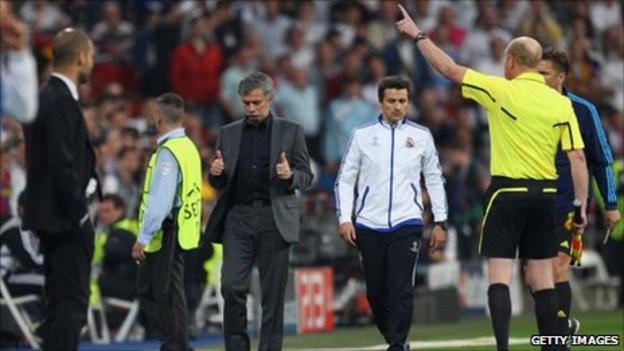 Real Madrid coach Jose Mourinho has stood by comments he made following his side's Champions League semi-final first leg defeat by Barcelona.
Uefa is investigating Mourinho, who suggested Barcelona receive favourable treatment from referees.
He mentioned images that suggest Real's Pepe did not touch Daniel Alves in the tackle for which he was sent off.
"Whoever criticises my words criticises the pictures and must think the photos and videos are altered," said Mourinho.
"An image is worth more than 1000 words and there are so many images from that game that were shown all over the world, that I have nothing else to add.
"I have nothing else to say. I have said what I wanted."
Mourinho did, however, go on to add that the recent events had strengthened his bond with the Spanish side.
The former Chelsea manager joined Real from Inter Milan last summer and still has four years to run on his current contract.
And despite rumours that he may leave the club in the summer, he stated: "To remain at Real Madrid makes more sense than ever before.
"Now I have more willingness to continue in charge of Real Madrid for what this means.
"This [Real] jersey is white, and white now has more significance."
Real and Barcelona will make formal complaints to Uefa, European football's governing body, about each other's actions during Wednesday's fiery encounter, which Barca won 2-0.
Barcelona coach Pep Guardiola did not want to respond to Mourinho's latest comments on Friday, but backed his club's decision to take the matter to Uefa.
"I can only give support to the board for their decisions," he said. "I'm an employee, one part, of this club."
And Guardiola insisted the Champions League tie is not over ahead of the second leg, which is due to be played at the Nou Camp on Tuesday, 3 May.
"We've got through one part of the tie, the other remains," he added.
"I'm not in the final of the Champions League, the only ones who have a title [Copa del Rey] this year are Real Madrid. They're not going to gift us anything."