Rangers fans must heed sectarian songs warning - Smith
Last updated on .From the section Football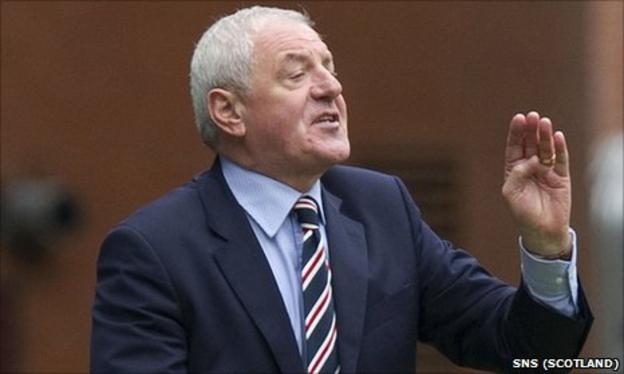 Rangers manager Walter Smith hopes the explicit threat of heavier sanctions from Uefa will put an end to any sectarian singing from supporters.
And further punishments were suspended for three years.
"It should be enough for people to realise the sectarian aspect of the singing has to stop," said Smith.
The charges from European football's governing body relate to both legs of Rangers' Europa League tie against PSV Eindhoven last month.
And Smith admitted the sanctions were not as bad as the Ibrox club had feared.
Rangers must pay 40,000 euros (£35,652) in addition to the away ban, while a second veto on travelling fans, an order to play a home match behind closed doors and a further 40,000 euros fine were suspended for three years.
"The outcome is not as bad as we thought it was going to be, so that's a good thing," added Smith.
"But the consequences affect the club's ability to compete so people need to realise they are not doing the club any good.
"Hopefully that hanging over everyone should be enough of a threat for that to happen."
Rangers fans were reported to Uefa by anti-racism group FARE (Football Against Racism in Europe) and Smith believes more clarification on what they regard to be acceptable and unacceptable behaviour is needed.
"I think that's one of the difficult things that they have, what's acceptable and what's unacceptable," added Smith.
"If the group FARE are the people who are going to be the judge of what's acceptable and what's unacceptable, then maybe it would be a good idea if they could say what is and what isn't.
"I think that's one of the things that would help and would clarify it to supporters. But I would just appeal on behalf of the club - if you're not sure, then don't sing it.
"I'm not quite sure about the mechanisms of Uefa or the background of FARE or whatever but they are being brought up as the judges of what is sectarian and what is not, so it would maybe be a good idea if they could clarify.
"Anyone who knows Rangers knows that we have tried exceptionally hard to try and eradicate the sectarian singing aspect of the support.
"If people continue to do it, what can you do? You have to look for outside agencies, like the police or the SFA (Scottish Football Association), to help you.
"Hopefully the situation as it stands at the moment will be a warning to anyone who does sing sectarian songs to stop it.
"We can only hope things continue in the manner that we saw at the Old Firm game last weekend.
"Everybody was expecting there to be trouble and what do we find? Barcelona and Real Madrid are causing more trouble than there was at the Old Firm game."