Sepp Blatter pledges reform if re-elected Fifa chief
Last updated on .From the section Football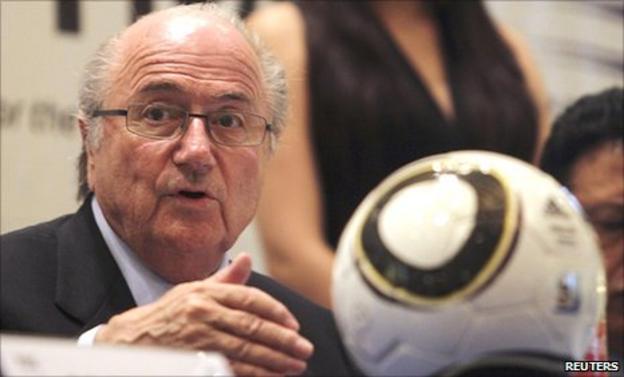 Fifa president Sepp Blatter has pledged wide-ranging reforms if he is re-elected, including changes to how future World Cup hosts are chosen.
He says he is considering allowing all of Fifa's 208 member associations to vote on host countries in future.
Blatter, 75, is standing against Asian football president Mohamed Bin Hammam in the election on 1 June.
He told German newspaper Frankfurter Allgemeine he hopes his reforms will "restore the credibility" of Fifa.
The governing body was criticised for the voting process that led its 24-man executive committee - reduced to 22 after two members were suspended for corruption - give Russia the 2018 World Cup and choose Qatar as host of the 2022 tournament.
Blatter, who is seeking a fourth term as president, is proposing a solution similar to the way in which the International Olympic Committee chooses Olympic venues.
"That's a project I have at the back of my mind," revealed Blatter. "I'd like to adopt the example of the International Olympic Committee to avoid a repeat of what's happened in future.
"The executive committee receives 10 or 12 bids, looks at them, recommends the best ones and then lets the general assembly vote.
"That would be a positive solution for Fifa. In view of the uncomfortable experience I had here in Zurich on December 2 it's an idea worth considering."
Blatter has also proposed setting up a watchdog committee to supervise how football's governing body works, adding he already knew who he wanted to head the body, but did not name them.
"I can't tell you the name yet. He will choose the other members," said Blatter, who confirmed these individuals would not come from within football. "They should be familiar with football but their priority will be to restore credibility."
Blatter said he wanted another term in which to finish what he has called his "mission in football".
"We want to be a little more (influential) in our society... in education. What is education in our game? It is discipline, respect, fighting spirit and fair play," he said.
The Swiss also criticised his Qatari opponent in the presidential election, Bin Hammam, for his decision to stand for election.
"I don't know why Bin Hammam became so aggressive suddenly. He repeatedly told the executive he would not run against me and now he is doing it," said Blatter. "We had a really good relationship and he supported my election in 1998. We worked together but I wouldn't say it was a friendship."
Blatter, who insists he is confident of winning the election, also revealed his presidential salary was "$1m(£598,000), perhaps a bit more" before also claiming: "I'm not ashamed by that".
"Compared with international companies listed on the stock exchange, we are school kids as far as salaries are concerned," he added.
He was also willing to publish the salaries of other Fifa officials, "if the congress so decides".