West Ham's Avram Grant unfazed by David Sullivan fears
Last updated on .From the section Football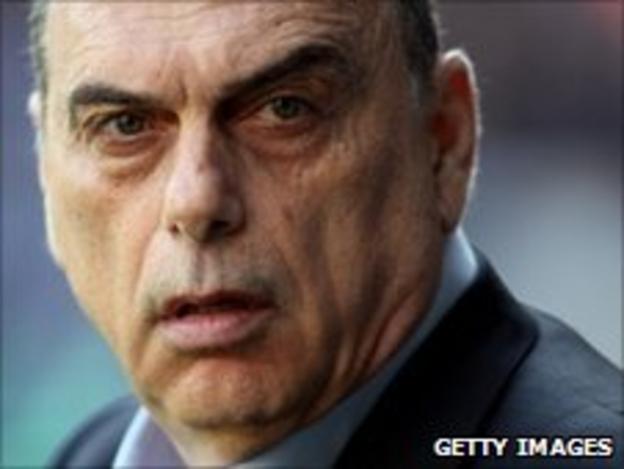 West Ham boss Avram Grant says he is not concerned that co-chairman David Sullivan believes the club have a "25% chance" of avoiding relegation.
The Hammers are bottom of the the Premier League, two points from safety.
"Now we have four games to the end of the season and I don't know how the chances are by percent, I am not a businessman," said Grant.
"What I can tell you, though, is that we have a good chance to stay and we will do everything to do it."
West Ham have lost their last four matches and travel to fourth-placed Manchester City on Sunday, prompting Sullivan to tell the Daily Telegraph: "Obviously we are facing the reality that 70-75% we are likely to be in the Championship next year.
"But there is still a 25-30% chance we won't be. We have to be realistic. The bookmakers put our chances at 28% and you have to accept that."
However, Grant said he had not seen the interview with Sullivan but remained bullish about his side's prospects.
"I didn't read it so I can't tell you but David is a businessman," he said. "I think we have a chance to stay up. We are two points from the place that will keep us in the Premier League and of course we can do it.
"We showed that even we had less chances before we played well and took points."
Grant added: "If I say to you now there is a 51% or 32.5% chance, it doesn't matter. It only matters in money because if he wants to give 25% more to the players if they stay in the league, it is OK.
"If you put the chances of us staying up four months ago the chances were 10%, so it always changes.
"If we take four points from the next two games the chances will be more than [the current figure] and it will continue like this until the end of the season."
Sullivan also questioned the commitment of some of West Ham's players, saying: "I'm sure a few of the players are already looking at where they will be next season - their contracts are up, they'll be off."
Grant responded: "I can speak only about what I see. I could say yesterday [in training], against Chelsea last weekend and the games before that the players are giving everything.
"Of course we can ask for more in quality but they are giving everything and the spirit is good."