Shiels expects to get permanent Kilmarnock job
Last updated on .From the section Football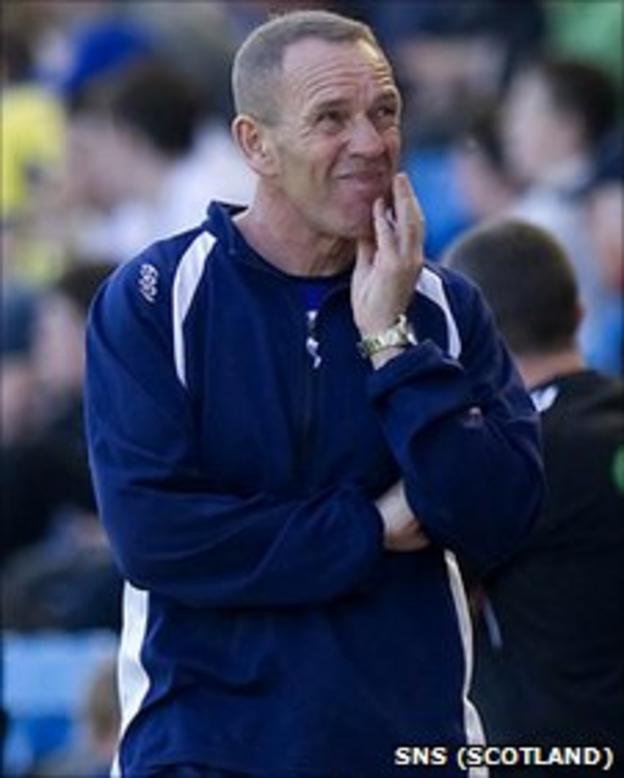 Kilmarnock caretaker manager Kenny Shiels expects his position to be made permanent, despite not having yet posted a win as boss.
Speaking after the 2-2 draw with Hearts, Shiels told BBC Scotland: "I do expect to get it to be honest.
"If you look at the way we play and the relationship I've built up with the players and the club, it's probably the best thing to happen for the club.
"But, then again, I'm biased, I'm wearing tinted glasses."
Shiels' men led and then fell behind against Hearts before claiming a late leveller.
"In football, we all wear tinted glasses at times but I think you would have to be unbelievably out of touch if you felt that we didn't deserve to win the game," said Shiels after the draw at Rugby Park.
"In the second half it was like the Alamo at times. We had waves of attack and we missed chances.
"We concede pitch too easily at times and the opposition in the first half were able to condense that area of the pitch and we couldn't get as much of a threat as I would've liked.
"We made the changes and they seemed to work for us. James Dayton and David Silva stretched them quite a bit. James Dayton, to be fair, hasn't got the games in the tank so you can't give him a full game.
"Anyone who left the game and didn't feel as if they were entertained, I don't know what you can do but we want to win matches.
"I think we conceded a goal at a time in which we were comfortable. I felt the chemistry for five minutes before they scored, we had gone a little bit lethargic and relaxed too much.
"They had five minutes in the second half when Hearts had a little bit more of the play than us but for the rest of the second half, it was like what we do in training. It was waves of attack, we work on that in training.
"But we didn't score the necessary amount of goals to win the match and I'm disappointed in that but the boys showed tremendous character again to come from behind."
Shiels has been in charge for five matches, drawing three and losing the other two.
"Everybody who knows me knows that I've got a winning mentality so, from a personal point of view, I don't think we can question that," Shiels said. "The players have that in them too.
"Circumstances and things happen in football, you get trends; Hearts haven't been beaten in six but I think they've drawn their last five.
"I'm working with the initiative that I'm the caretaker manager but I'm doing things that a permanent manager would do.
"For example, I'm going to Holland, I've a player to watch because I feel that their style, the Dutch players' style suits the way we play.
"I've arranged the pre-season tour, pre-season training - we've formatted that with my sports scientist and physiotherapy. I'm speaking to players on a daily basis, I've got eight trialists coming in this week.
"These are things that a permanent manager does. I'm doing that because Kilmarnock Football Club pays my wages so I feel if I don't do that and someone comes in then there's a vaccum there and I'm not doing my job properly.
"I'm a very conscientious person and if someone pays me a salary, I've got to work hard for that employer and I'm working on that premise."