Tottenham manager Redknapp demands goal-line technology
Last updated on .From the section Football
Manager Harry Redknapp was left to bemoan the lack of goal-line technology after two contentious goals helped Chelsea beat his Tottenham side 2-1.
Frank Lampard's shot was deemed to have crossed the line after being spilled by Heurelho Gomes, while Salomon Kalou looked offside for his late winner.
"It's unbelievable we've not got the technology," Redknapp told BBC Sport.
"We can put a man on the moon but we can't decide if a ball crossed the line - it's beyond belief."
Meanwhile, 1966 World cup hero Sir Geoff Hurst, who famously scored a goal in that year's final thanks to a marginal call in the same circumstances, said: "I'm amazed. Goal-line technology's got to come in."
Speaking to BBC Radio 5 live's Sportsweek, he added: "We have it in all the major sports - tennis, cricket, snooker. It's our national game, the world's biggest game and I'm continually astounded that Fifa, the governing body, haven't introduced it just for the goal-line itself, not to go anywhere else.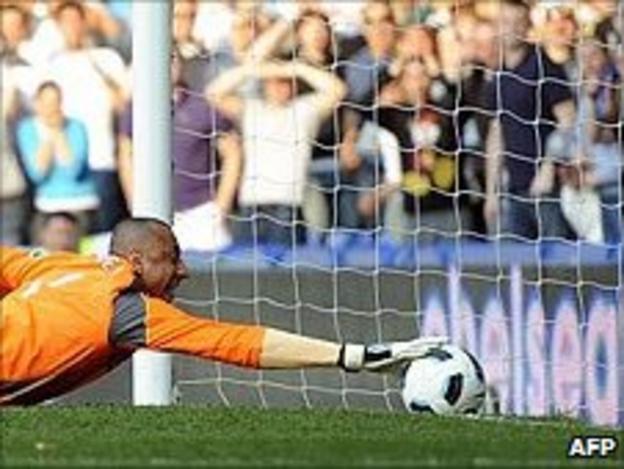 "Every football person who has played the game or watched the game would say it's got to be introduced but a small handful of people in Zurich decide, because it's not their idea, that they're not going to use it."
Sandro had put Tottenham in front with a rocket of a long-range shot before the first controversial call, right at the end of the first half.
"The linesman made a wrong call, it hasn't crossed the line," said Redknapp.
"He guessed wrong - not purposely, it was an honest decision but it's so difficult. They've got a hell of a job, he was around the 18-yard line when the ball was on the line - you can't see from there.
"That brought them back into the game - in the second half they got stronger and it became harder.
"That goal in the last minute was offside, so we didn't get the rub of the green.
"The linesmen don't make mistakes on purpose, they did what they thought were right decisions, but unfortunately today they got them wrong."
The result puts Chelsea three points behind leaders Manchester United, who have a game in hand, but leaves Tottenham in fifth place, four points adrift of Manchester City, who currently occupy the last Champions League spot.
And Redknapp said while that gap was looking ever more daunting, he was looking behond short-term goals.
"I look at the bigger picture and what the future is for this club - it can't take a backward step now and we have to keep moving forward," he said.
"We're starting to be up there with the best of them. The club can't say 'we haven't made the Champions League' and pull up stumps and throw in the towel in.
"The future is fantastic, there are some great players and with the addition of one or two in the summer I think we can win the championship eventually."
Even Chelsea boss Carlo Ancelotti admitted his team had had luck on their side with the decision which went their way.
"Today we were lucky," he said.
"We have to be honest to say this because looking at the (goals) on the television, we can say the decision was wrong but it was a very difficult decision.
"We have to accept this when things are good for us and also when things are against us."
Manchester United boss Sir Alex Ferguson was a spectator at Stamford Bridge but left before the end of the game.
"He didn't see the last goal," said Ancelotti.
"I will send him a message to say that we won."