Butcher slams 'poor' Inverness against Aberdeen
Last updated on .From the section Football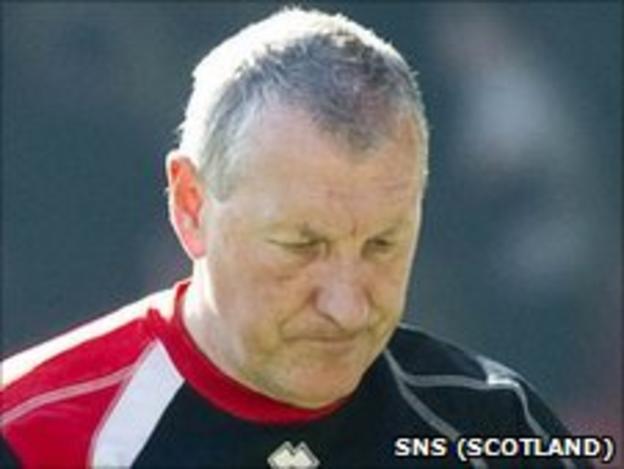 Inverness boss Terry Butcher was disappointed his side let their recent form slip in the 1-0 loss to Aberdeen.
"We could be here all weekend and never score," Butcher told BBC Scotland.
"It's one of those days. It's a mystery to you sometimes when they don't turn up. They turned up on Monday (against St Johnstone) and were excellent.
"They just didn't turn up on a beautiful day and on a beautiful pitch. We didn't do it justice and didn't do ourselves justice, simple as that."
Peter Pawlett's goal gave the Dons victory at Pittodrie and Inverness only really threatened with a Shane Sutherland shot.
"We never got going at all," said Butcher. "We had one shot on target and Jamie Langfield's produced a wonderful save as well. But that's it.
"(Inverness goalkeeper) Ryan Esson's had to work very hard in the game and Aberdeen thoroughly deserved the win, I've no complaints about the result at all.
"Aberdeen, without being brilliant, dominated us and it's very, very hard to take, especially after a good performance on Monday.
"The only plus point is that the sun is shining.
"It's really hard because we've done well. We had a little mini-run of three games, two draws and a win, and we've just thrown that away so easily. Disappointing."
Next up for the Highlanders is a home match against title-chasing Celtic on Wednesday.
"If we play like that against Celtic, we'll lose 10-0, simple as that because we were absolutely poor," added Butcher.
"I think the players will lift themselves. We'll regroup, we'll see whose available, we'll see what we do.
"Chris Hogg is having a scan this week on his knee, he possibly might have nicked the cartilage, we don't know. Richie Foran's out for that game on Wednesday.
"We haven't got out problems to seek from a selection point of view but those that are selected have got to perform better than that. We will demand that. We'll have a meeting and talk about it and get on with it."