Brendan Rodgers admits Championship play-off delay fear
Last updated on .From the section Football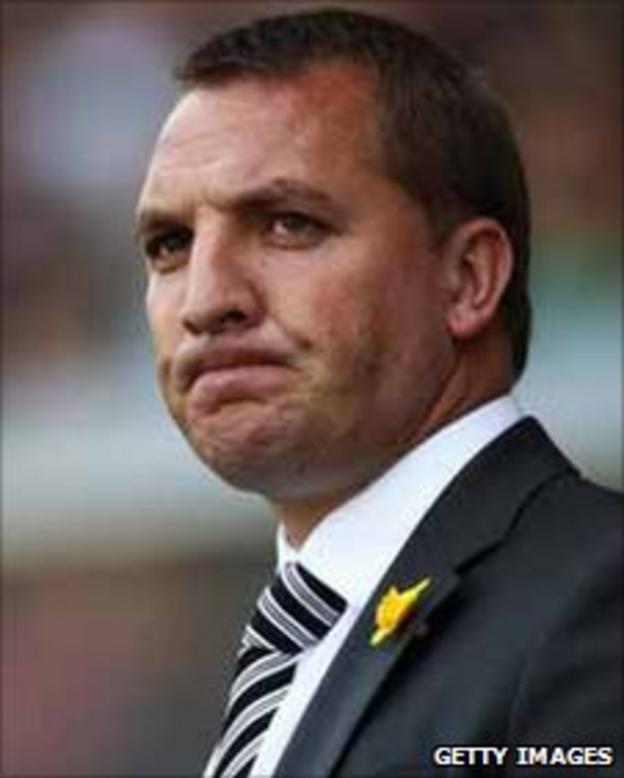 Swansea manager Brendan Rodgers has revealed the Championship play-offs may be delayed if Queens Park Rangers are found guilty of breaching league rules.
The FA, expected to make its decision on Friday, charged already promoted Rangers with breaching rules over the signing of Alejandro Faurlin.
If QPR are found guilty at a hearing they risk being docked points and an appeal could delay the play-offs.
The first-legs are provisionally 12-13 May but they could be put back a week.
The BBC understands that the affected clubs have been notified that the semi-finals could be delayed until the week of 16 May.
Any possible delay would allow the Football League time to hear an appeal in the event that Rangers were found guilty and given a significant points deduction by a four-man FA disciplinary panel this week.
Swans manager Rodgers revealed: "We've sort of been given an indication if there was the possibility of an appeal if something happens that... you know.
"I think it's only moved a few days pending the appeal, but it's one where we're delighted to be in the situation we're in and we won't be crying over a few days extra recovery.
"Let's wait and see what happens. There's a judgement next Friday. Everyone will know where they stand and we'll take it from there.
"It's the least of my worries. I can only be proud of our club and my players and whatever happens next week, we'll take it and run with it."
Fourth-place Swansea have already booked their play-off place and their first win in six away games at Millwall on Saturday still keeps Rodgers' men in with a chance of catching Cardiff City and Norwich in the automatic promotion race should both sides slip up on Monday.
Swansea's pursuit of third place in the table is also important if champions QPR - who were promoted at Watford on Saturday - are found guilty and have points deducted.
Should all that happen, it would leave Swansea going into the final day of the regular season against already relegated Sheffield United still in the hunt for automatic promotion.
Rodgers, though, did admit the length of time it has taken for QPR's disciplinary hearing to be held was "ridiculous".
"I think it's ridiculous that it's dragged on so long if I'm being honest," said Rodgers.
"Surely if you've got a rule in place, then there's a sanction alongside that whatever happens so you should know near enough straight away.
"But to drag on and then be brought up the day before the end of the season is incredible really."