Chelsea could win title after Man Utd loss - Ferguson
Last updated on .From the section Football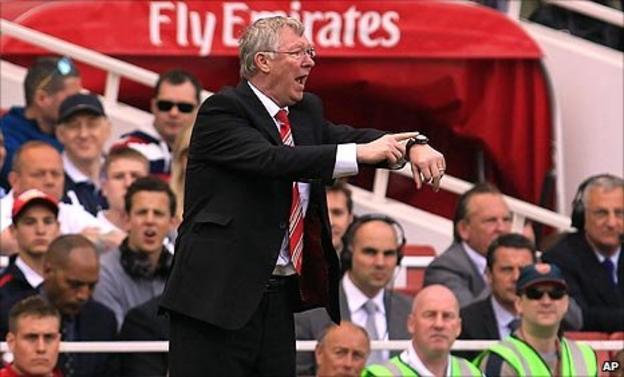 Sir Alex Ferguson criticised referee Chris Foy after seeing his Manchester United side lose 1-0 at Arsenal to leave the title race wide open.
Though conceding Arsenal had a case for a penalty, the United manager bemoaned Foy's failure to give the league leaders one of their own late on.
"It gives Chelsea a major chance now - and that's what happens when you get these decisions," he told Sky Sports.
Chelsea trail by three points but will go top if they beat United on Sunday.
Foy missed a clear handball from Nemanja Vidic with Arsenal's Robin van Persie poised to glance Theo Walcott's cross at goal before half-time.
Aaron Ramsey scored what proved to be the winner 11 minutes into the second period before the referee went on to wave away United's late penalty appeals after substitute Michael Owen tumbled under a challenge from Arsenal full-back Gael Clichy.
"It's too big a game not to get the decisions right," added Ferguson.
"It balances out in that respect. I think it was difficult to see that one [Vidic's handball] but the one at the end, Clichy knew [he had committed a foul]. He put his hands up in horror.
"But in terms of ability and a game at Old Trafford [against Chelsea] - the supporters will be ready for it - and so will our players."
United forward Wayne Rooney also urged his team-mates to forget Sunday's defeat, especially with a Champions League semi-final second leg to prepare for.
"Bad result. But still in our hands. We have to move on to Wednesday now," Rooney wrote on his Twitter page. ahead of an old Trafford meeting with Schalke in which United will be confident of defending a two-goal lead.
Owen added on his own Twitter feed that he was absolutely certain he had been brought down for a penalty: "Not seen tv replay but don't need to as I know mine was a pen," he wrote.
"Heard people saying Arsenal should of had one too so can't complain too much. Important to put today behind us now and focus on things we can affect in the future. Still in a great position so time for one final push."
While the result was a huge boost for Cheslea's title chances, Arsenal boss Arsene Wenger added that his side will "keep fighting" for the Premier League title despite sitting six points off the leaders.
"I have not given up any hope, because we want to fight until the last second of the season," he said.
"We were really unlucky this season until now. Let's hope we have a bit more luck in the final three weeks - you never know.
"We had a good performance with everything in it - discipline, fighting spirit and our usual passing game.
"Until we scored the goal, I feel we controlled the game completely, then - because we had not won a lot recently - we tried to protect our advantage and were a bit under pressure.
"If you look at the age of the team, I think it is a big encouragement for the club because we had a very young midfield and were still very positive in our play."
Despite admitting to the presence of naivety in his squad, Wenger maintained he would not make panic buys during the summer.
"We want to add what is needed, but I am very cautious with what I say because it can be turned both ways," he added.
"It is very important for the club that we keep faith in what we do. You can see that the players grow when they get a chance, like [goalkeeper] Wojciech Szczesny compared to two months ago, he has grown.
"It is a law in our game, you can only grow at some stage if you play. People want both. They want to win every game and they want to produce as well fantastic quality young players."
Midfielder Samir Nasri was replaced at half-time with a small hamstring problem, but Wenger is hopeful both he and captain Cesc Fabregas will be fit for next Sunday's trip to Stoke.
United will now look ahead to Wednesday's Champions League semi-final second leg ahead of what could prove to be a title decider against Carlo Ancelotti's Chelsea.
"We have a big week ahead," admitted Ferguson.
"Wednesday is a European semi-final second leg and then the game on Sunday [against Chelsea], so two massive games.
"We will regroup and freshen it up. I will make some changes on Wednesday without question. I will bring Paul Scholes back in, Dimitar Berbatov, Michael Owen.
"We'll need to do that but I will probably keep my experienced players at the back.
"We are in as good a position as you could ever wish for at the start of the season - semi-final of the European Cup, second leg, two-goal lead and go into a home game on Sunday level on goal difference [and with a three-point advantage]."