Real Madrid & Barcelona protests dismissed by Uefa
Last updated on .From the section Football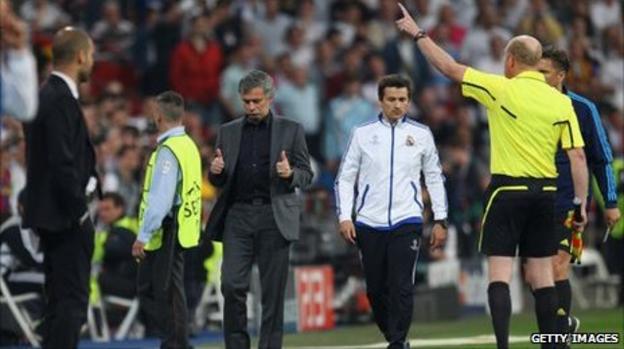 European football's governing body has rejected the complaints lodged by Real Madrid and Barcelona following their Champions League semi-final first leg.
Uefa said there was "no common strategy to provoke" by Barca after Real claimed the Catalan giants were guilty of "unsportsmanlike behaviour".
The decision to dismiss Pepe was upheld while the complaint about Real boss Jose Mourinho was rejected.
But Uefa will investigate the charges it has brought against both clubs.
A Uefa statement read: "FC Barcelona have been referred to the proceedings already brought against Mr Mourinho, which will be heard by the control and disciplinary body on Friday 6 May.
"No new disciplinary proceedings are therefore to be opened against Jose Mourinho on the basis of the complaint lodged by Barcelona."
Real Madrid are in the dock for the dismissals of midfielder Pepe and Mourinho, the latter's post-match outburst and the behaviour of their fans during last Wednesday's 2-0 defeat at the Bernabeu.
Barcelona have been charged over the red card shown to reserve goalkeeper Jose Pinto at half-time.
The already heightened emotions surrounding the match were further inflamed by Mourinho after the full-time whistle when he suggested the Catalan club is favourably treated by referees.
Barcelona then said after a board meeting last Thursday that they believed the former Chelsea, Inter Milan and FC Porto coach had "crossed the line" with his comments.
And Real responded by complaining that Barca's players "consistently feigned aggressions with the sole purpose of misleading the referee of the match".
The decision to reject their complaints was taken by the vice-chairman of Uefa's disciplinary panel and can be appealed against within three days if the clubs wish to do so.