Neil Lennon brushes aside talk of Emilio Izaguirre sale
Last updated on .From the section Football
Celtic manager Neil Lennon is determined to keep star full-back Emilio Izaguirre at the club.
The 24-year-old signed a four-year contract last summer and has enjoyed a fine debut season in Scotland - he was named PFA Scotland player of the year.
Lennon said there had been no bids for the Honduran and bristled when asked if he feared the player could now become a signing target for other clubs.
"We are trying to build a team, not dismantle it," he said.
At his club's media conference on Tuesday, Lennon told reporters: "As soon as we get a decent player into this club, you want him out the door.
"He wants to stay, we want him to stay.
"We have had no bids from anyone. All it is is speculation coming from you lot, so just drop it."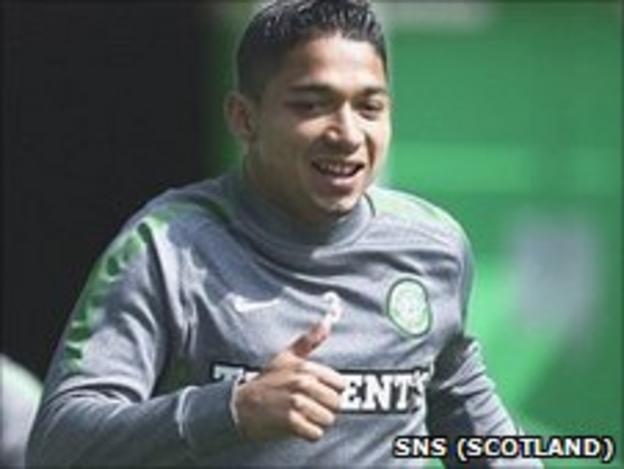 Instead, the Celtic boss preferred to speak at length about the contribution Izaguirre has made to Celtic.
"I am delighted for him. It was thoroughly deserved," said Lennon in relation to the left-back's player of the year award.
"He has been fantastic since day one, since his debut at Motherwell.
"He has been a breath of fresh air. He has given us an extra dimension to our play.
"He is a hungry boy, very grounded, a consummate professional. He comes in every day with a smile on his face and makes this place better.
"He has unbelievable humility. He has come a long way from home, he has a young family, he has great faith, he lives his life properly.
"He is a very happy person in life and in work and you can see that in the way he plays."
Lennon revealed that the Celtic scouting team had identified Izaguirre as a possible signing target and that his performance against Spain at the South Africa World Cup added to his allure.
"The boys in the recruitment office did some ground work on him after that [game]," added the manager.
"We had other options in that area but when we knew he was available we felt he was the pick of the lot and it has turned out to be a great bit of business.
"You don't know how the player is going to turn out temperament-wise; you need a bit of luck in that respect.
"He is a terrific defender. He makes it look easy, which it's not, and he has that will to get forward and he gives us that width on the left-hand side."
In terms of the Scottish Premier League title run-in, Lennon insisted he was feeling "not one iota" of pressure but suggested there "may be a few bumps along the way" before the championship is decided.
Celtic, a point behind Rangers, can leapfrog their old rivals when play their game in hand at Inverness Caledonian Thistle at 1800 BST on Wednesday.
Rangers have the greater experience, the bulk of their small squad having contributed to previous close title races, but Lennon played down that aspect and the suggestion that the pressure could get to his players.
"Every year the pressure is the same whether you have the experience or not," said Lennon, who will hold contract talks with the Celtic board after his team play Motherwell in the Scottish Cup final.
"It can help, obviously, but every season throws up its different challenges and different pressures and Rangers will be feeling it as much as our players.
"What is bottle? It's having the ability to express yourself under pressure. We've handled it so far. We just want to play.
"These guys have been under pressure all season and as the finishing line gets closer, the games will get more tense but we'll keep that tenseness away from them; that's our job.
"It's important we keep them in a good frame of mind but they have been doing that with their good performances."