Rangers fans vow to self-police sectarian chanting
Last updated on .From the section Football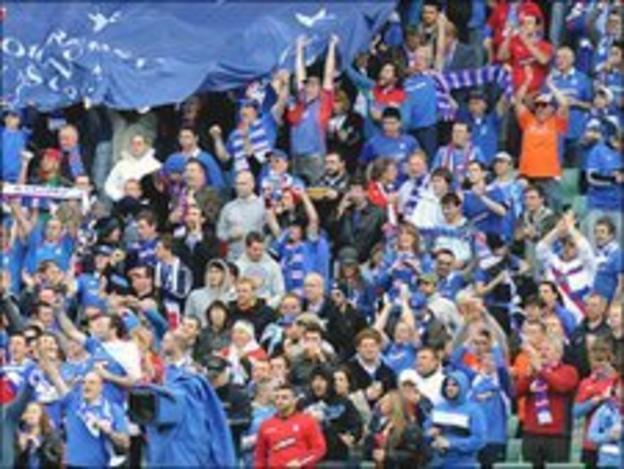 Rangers fans have responded to Uefa's sanctions against the club by pledging to self-police any sectarian singing.
Fans' groups, including representatives of 80 supporters clubs, the Rangers Supporters Trust, the Rangers Assembly and the Blue Order, met on Sunday.
A Trust statement read: "It was agreed any songs with references to sectarian chanting as outlined by the police and the courts must go now and remain gone.
"We can try to eradicate this by more stringent self-policing."
About 150 fans of the club met following last week's decision by European football's governing body to impose an immediate one-match ban on Rangers' travelling supporters and a fine of 40,000 euros for discriminatory behaviour at the match against PSV Eindhoven on 10 March.
Uefa also issued the club with a suspended ban on its fans for a second away game, a ban on home fans for one match and a further 40,000 euros fine if sectarian chanting by a section of the support persists in the next three years.
The supporters groups have now decided to tackle the problem proactively and also plan to improve their image.
The statement continued: "We accepted that there is still a problem amongst a minority of our support, and while we are certainly not the only club with an offensive singing problem, we are the only ones being highlighted at present.
"Whilst we need to clean up our own act we insist all supports must be treated the same.
"It was also discussed and agreed that we need to be far more resourceful in presenting a fairer portrayal of Rangers and Rangers fans in the media, and while it is clear that there is an agenda against us and us alone, we have not done anything about it for far too long.
"We are confident that these messages can be taken back to the supporters clubs worldwide, and amongst the supporters groups and forums, and that we can unite as one to try to eradicate the minority who persist in sectarian and offensive singing."