Jack Wilshere wants to play for England U21s - Pearce
Last updated on .From the section Football
Arsenal midfielder Jack Wilshere has expressed a desire to play for England Under-21s in the European Championship in June, according to Stuart Pearce.
Gunners manager Arsene Wenger has queried the selection because Wilshere, 19, is now in England's senior side.
But England Under-21 boss Pearce, who named Wilshere in a provisional 40-man squad on Tuesday, told BBC Sport he will take guidance from the players.
"The indications I have had from Jack is that he wants to play," Pearce said.
"The players themselves will dictate whether they turn up or not and that has always been the case from when I was playing international football, through to today.
"The clubs will usually follow the lead of the players and if the players want to be there they will be there.
"I have a feeling we [Pearce and Wenger] are going to have different viewpoints but the most important thing is the lad himself wanting to play in the under-21 tournament and I have had that conversation with him."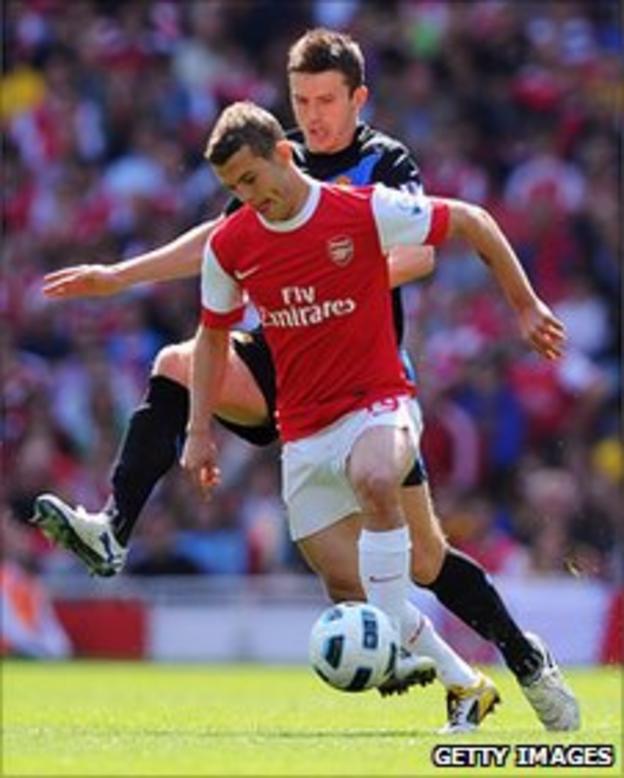 Wilshere has played more than 40 games for Arsenal this season and has turned out for England's senior side four times.
He also won the Professional Footballers' Association young player of the year award in April.
That same month, Wenger questioned Wilshere's likely call-up for the under-21s after the midfielder won his fourth senior cap in the 1-1 draw with Ghana at Wembley.
The Frenchman stated: "Why do you produce a youth system? It is to get them ready to be playing in the first team.
"Once they play in the first team, your job has been done so you can promote other players."
Wenger has also suggested that if Wilshere plays in the under-21 tournament, he should be rested for England's friendly against the Netherlands in August and the Euro 2012 qualifiers against Bulgaria and Wales in September.
Pearce said the dispute reminded him of a similar row with Wenger over Arsenal forward Theo Walcott's inclusion in the party for the 2009 European Championship.
"Two years ago, I had the same conversation with him about Theo Walcott," added Pearce. "The proviso was then that there was a World Cup coming up in South Africa and he would be burnt out.
"He went to the under-21 champs and had a good tournament. Down the line his form wasn't good enough for him to get on the plane to South Africa.
"To try to dictate the future is very difficult in the professional game. Jack has played a lot of games this year. He is on great form and he loves football."
Wilshere has spoken in the past of his desire to gain experience of playing at an international tournament.
And speaking in June's edition of FourFourTwo magazine, he said: "This summer, if I'm selected, I'll play for the under-21s.
"It's down to Arsene Wenger, Fabio Capello and Stuart Pearce, but I will never say no to my country."
Pearce will trim his party to 23 on 1 June, with the European Championship kicking off on 11 June.
England Under-21s will face Spain, Ukraine and the Czech Republic in the group stages on 12, 15 and 19 June respectively.