Pep Guardiola relishes Barcelona Wembley return
Last updated on .From the section Football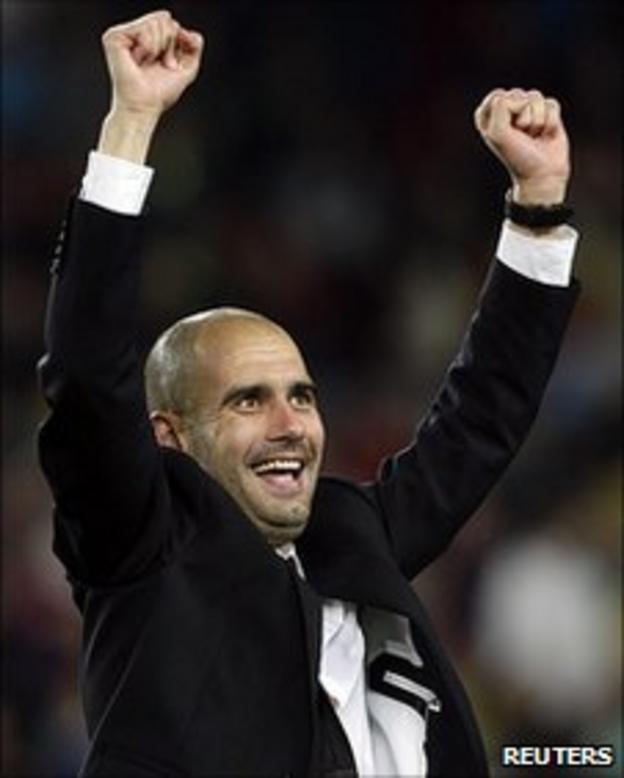 Barcelona coach Pep Guardiola said he was honoured to be returning to Wembley for the Champions League final.
The Spaniard was a member of the Barca side who beat Sampdoria 1-0 at the old Wembley in 1992 as the club won the European Cup for the first time.
"It is an honour to get to the final," he stated. "Football is coming home.
"It was a huge moment for the club when we won the Champions League for the first time in the old Wembley and now we are in the new Wembley."
Guardiola's men beat their arch-rivals Real Madrid 3-1 on aggregate to reach the final for the third time in six seasons.
Their likely opponents are Manchester United, who face Schalke at Old Trafford on Wednesday night with a 2-0 lead from the semi-final first leg.
The contest would be a repeat of the 2009 final, which Barca won 2-0 in Rome.
"We will wait and see who will be our opponent and we'll prepare accordingly," added Guardiola. "But if it's Manchester United then it will be a different game to the final in 2009 - they are a different team with different strikers."
After a nervous start two years ago, Barca outclassed United with goals from Samuel Eto'o and Lionel Messi.
"A match is decided by many uncontrollable things," explained Guardiola. "We were lucky in the beginning of that game and we were a bit better than them after that, but if we meet again it will be a different match.
"We will have to try and find their weaknesses, have the ball and attack."
Guardiola said he would not underestimate a United side who are three points clear at the top of the Premier League, or their indefatigable boss Sir Alex Ferguson.
"They are a great team and he is one of the best in the game - he has shown he can repeat and recreate, and win and win and win in finals," he commented.